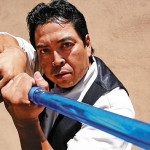 The anticipation for the upcoming addition to the Star Wars movie franchise makes this year's Star Wars Day particularly lively. According to the origin story on the official Star Wars website recognized by Lucasfilm, the phrase was first used on May 4, 1979, the day Margaret Thatcher took office as UK prime minister. The Conservative party allegedly placed an ad in the London Evening News which read, "May the Fourth Be With You, Maggie. Congratulations." The growth and popularity of May 4th as official Star Wars Day can attest to the iconic franchise's wide international reach, with festivals happening all over the world. While the movies include their own constructed languages (C-3PO is a translator of over 6 million forms of communication), they have been translated, subtitled and dubbed in over 50 different languages across the globe, including Navajo. May 4, 2015 marks the two-year anniversary of the casting call for Navajo Star Wars.
Star Wars IV: A New Hope was the first major film to be subtitled and dubbed in the Navajo language. The translation work was done by a small team in a 36-hour marathon of translating led by Manuelito Wheeler, the director of the Navajo Nation Museum in Arizona. Wheeler explained why a well-known movie would be perfect for Navajo translation, saying: "I'm not fluent in Navajo. I grew up on the Navajo Nation, around the Navajo language; both my parents speak Navajo, yet I don't. And there are thousands and thousands of us out there that are in that same situation. So, when you watch a movie like Star Wars where you pretty much already know many of the famous phrases from it and then you hear it in Navajo, that's the connection right there."
Wheeler continued, "We had a team of five translators and in my mind they pulled off a miracle. You know, there was some talk out there […] like, 'How are you gonna say robot because there's no word for robot in Navajo?' It's such a powerful language, that it's very descriptive, very descriptive. If you ask for an object in Navajo you will know you'll be getting a round object, you'll be getting a skinny, soft object, you'll be getting a flat rigid object. So, the trick was choosing from the variety of definitions that the group came up with. So for example: 'robot.' It's a thinking machine; a machine that thinks for itself."
From there, auditions, recording, and editing took another three months. James Junes, the Navajo dubbed voice for Han Solo told Indian Country Today, "I was asking some of the youth [after the premier] and they said that they're definitely going to speak more Navajo. For them to be encouraged in that way is almost unheard of in this day and age because it seems like our language is kind of fading out." He concluded with, "May the force be with you" in Navajo: "ats'áhoníyéé' nił hólǫ́ǫ doo."
Photo credit: Augusta Liddic The Daily Times,
Pictured: James Junes, Navajo comedian and Navajo voice of Han Solo