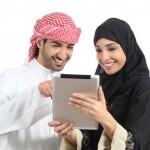 The Huffington Post announced the launch of a new Arabic-language news site, HuffPost Arabi. The online news site will target the Arab world's younger digitally-savvy generation.
President and Editor-in-Chief, Arianna Huffington, said in a statement, "There's such a great need – not only in the region, but all over the world – to bring more Arab voices into the conversation and deepen the world's understanding of life in the Arab world, from its accomplishments to its untapped potential."
The Huffington Post is working closely with former director general of Al Jazeera, Wadah Khanfar and the editorial team of HuffPost Arabi will be London-based. Khanfar explained that the partnership aims to create a "fresh and exciting online community" and expand opportunities for journalists to create original content in Arabic.
The Huffington Post has already expanded into other global markets, such as Brazil, the U.K., and Korea. HuffPost Arabi will be its 12th global site.