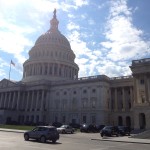 Today, over 70 delegates from across the U.S. are in Washington to meet with their representatives in Congress to ask for more federal support for language education.
With the guidance of the Joint National Committee for Languages/National Council for Languages and International Studies (JNCL-NCLIS), these education and business leaders are asking members of the House and Senate to support the recognition and funding of language education as a national priority through a range of actions including pledging their support for the American Council of the Teaching of Foreign Languages' (ACTFL's) upcoming Lead with Languages campaign which is set to galvanize public opinion; for language-specific additions to the proposed re-authorization of the Elementary and Secondary Education Act (ESEA, or No Child Left Behind); and for sponsorship of the proposed World Language Advancement Act 2015 which would reinstate the Foreign Language Assistance Program funding for K-12 schools.
Speaking with LM editor, Daniel Ward, Richard Brecht, American Councils for International Education, declared that "we have never been in a better position to change policy."
An in-depth report will follow in print and online.