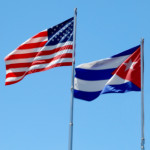 Today in Washington, Cuba's foreign minister, Bruno Rodríguez, raised the Cuban flag in front of the country's newly reopened embassy. However, U.S. Secretary of State, John Kerry, won't make his trip to officially celebrate the inauguration of the American Embassy in Cuba until August 14th. Still, as a historic symbol of full diplomatic restoration between countries, the Cuban flag flying in Washington was met with cheers of, "Viva Cuba!" The U.S. Embassy in Havana opened this morning as well, complete with lines extending past the building by 6 a.m. Anxious families awaiting interviews queued to meet with American Embassy personnel who, for the first time in decades, were answering questions and managing entrants.
Waiting in line is something of an epidemic in Cuba. So, along with a basic survival Spanish vocabulary, potential travelers to the country should be well versed in the language of lines:
"cola" = queue
"Hay que hacer la cola!" = Get in the queue!
"El ultimo?" = Is this the end of the line?
Cuban Spanish originates from the Canary Islands of Spain and differs from Mexican Spanish or European Spanish. The distinguishing characteristic of Cuban Spanish is a weak pronunciation of consonants, especially if it is the final letter of a syllable. In light of changing political relations, Cubans are expecting greater ease in traveling to the U.S. Similarly, waves of American tourists are forecasted to flock to the once-forbidden country.
#VivaCuba #Travel #Cuba #DíaHistórico