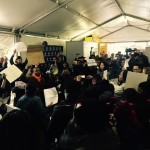 Student protests disrupted classes and led to the cancellation of a career fair at Stellenbosch University in Western Cape, South Africa over a school-wide language policy that gives Afrikaans and English equal status as languages of teaching and learning.
The university, a public research institution ranked in the top three of South Africa's colleges, traditionally taught white students using Afrikaans as a medium of instruction. In post-Apartheid South Africa, the university is now open to students of all races, but the language barrier still poses a hurdle to non-speakers of Afrikaans, many of whom are black. Stellenbosch's language policy and plan illustrates an approach to multilingual education that attempts to account for all students, some of whom lack proficiency in Afrikaans and some of whom lack proficiency in English. The so-called bilingual "T-option" provides for extra support for classes that students take during their first two years of undergraduate courses, including simultaneous interpreting services and parallel medium teaching. In the last years of undergraduate study, courses may be bilingual, in English only, or in Afrikaans only depending on the instructor's language abilities. Students can choose their better language for university documents, exams, tests, papers, and other written assignments. The university policy aims to protect the use of Afrikaans as an academic language, and promotes the use of English as an important international language. Supporters praise the T-option for offering students the opportunity to be fully bilingual upon graduation, capable of engaging in critical conversations, reading and writing in Afrikaans and English.
The student group behind the protests, Open Stellenbosch, asserts that the T-option perpetuates a privileging of white, Afrikaans culture placing black students at an academic disadvantage.
"The interpretation devices non-Afrikaans-speaking students are forced to use inhibit their ability to engage effectively with the lecturer as well as the class material," Open Stellenbosch said in a statement on their Facebook page. "We are not against Afrikaans as a language but demand the availability of all classes in English."
The university responded to the student protests threatening disciplinary action for disrupting the university.
The debate about language at Stellenbosch has been ongoing for decades. A 1996 article from Mail & Guardian reveals that the conversation has changed very little: "Afrikaans is seen on the one hand as defining the university culturally and academically, and on the other it is perceived as a deliberate barrier to keep out black students, in a sly bid by the authorities to keep the university wealthy, white and culturally homogenous."
#Afrikaans #English #multilingualism #university #SouthAfrica