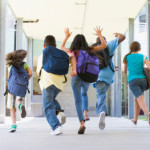 The 2014 California Language Census found that over 22% of California public school students are English language learners (ELLs) and over 43% speak a language other than English at home. The California Department of Education provides assistance for schools to achieve the following goals: (1) Ensure that English learners acquire full proficiency in English as rapidly and effectively as possible and attain parity with native speakers of English. (2) Ensure that English learners, within a reasonable period of time, achieve the same rigorous grade-level academic standards that are expected of all students.
Californians Together, in collaboration with the California Association for Bilingual Education (CABE) invites mid-career leaders in English Learner education and advocacy to apply for a three-year fellowship. Fellows will be part of an initial cohort of 15, and will be immersed in research, as well as mentorship and skill development to inspire and prepare advocates to work at multiple levels (state, district, community) to establish strategic action agendas, move policy and practice, develop and leverage research, work with media, and build and mobilize coalitions championing the right to quality education for English Learners.
Full details and a link to the online application can be found here.
Applications are due no later than September 25, 2015.