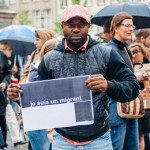 As Europe struggles to deal with the influx of refugees fleeing conflicts in North Africa and the Middle East, opinions are polarizing between those who want to seal Europe's borders and those who wish to grant these migrants the dignity of residence. Beside the northern French port of Calais, at the vast refugee/migrant camp called the "Jungle" by the vitriolic British press, some migrants are looking on the positive side and using their waiting time to learn French.
The school opened in July after a group of migrants asked for assistance in learning the local language to help with assimilation. French lessons are being offered by volunteer teachers after local charities came together. Although the school is small, with classrooms only able to hold around 30 pupils, it contains all the basics required to learn.
Many of the migrants taking French classes have taken the decision to apply for citizenship in France and not pursue their hopes of reaching the UK. France is already home to more than a quarter of a million refugees, according to United Nations data–the country has taken in more than twice as many as the UK, even though the countries have similar populations.
There are a further 56,000 asylum seekers waiting for their claim to a French safe haven to be processed–the second highest number in Europe after Germany–while in the UK there are 36,000.
"We did it to reunite the 'brothers', and at the same time they can learn French," Zimarco Jones told the Guardian. The school's Nigerian founder arrived in Calais two years ago and is still waiting for his asylum claim to be processed. "Now we need to build another one," he said with a smile.
Many of the volunteers at the school are local teachers giving up their summer vacation. They and Zimarco are now planning to organize separate classes for about 200 women and two dozen children. The women are outnumbered around 10 to one by men in the encampment.
#French #France #refugees