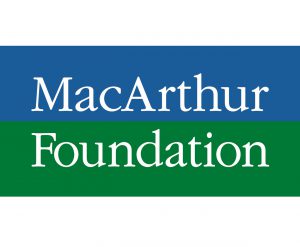 MacArthur Foundation has announced the 2016 MacArthur Fellows, commonly known as the "genius grants," and this year's class includes Native American linguist Daryl Baldwin. Daryl and 22 other Fellows will receive a no-strings-attached $625,000 grant for their exceptional creativity and potential for future contributions to their fields. Daryl Baldwin is a linguist and scholar reviving the linguistic, cultural, and intellectual heritage of the Miami (Myaamia) nation. Forced removal of the Miami nation from their homeland in the Great Lakes region west to the unorganized territory in the nineteenth century scattered the Myaamia people, now numbering around 5,000, across the country and accelerated the decline of the Miami language, which lost its last native speaker in the mid-twentieth century. Through a multipronged approach that is rooted in restoring use of the Miami language, and includes both education and research, Baldwin is imparting important cultural knowledge to present-day Myaamia descendants.
Baldwin, a trained linguist, utilized historical documentation and the work of linguist David Costa to teach himself and his family the language. Baldwin's efforts to share his love of the language would develop into community-supported summer youth camps. For Baldwin, however, language is inextricably linked to culture and identity, and language reclamation is a critical tool in his larger efforts to empower a healthy and sustainable Myaamia community. To that end, he has helped forge a unique and mutually beneficial tribal-academic partnership with Miami University in Ohio through the Myaamia Center (formerly the Myaamia Project). Jointly directed and funded by the university and the Miami Tribe of Oklahoma, the center undertakes research for the preservation and rediscovery of Myaamia ways of knowing, including projects focused on harvesting practices and seasonal activities and diets; mapping the landscape and land uses of the traditional homeland; reconstructing the traditional Myaamia lunar calendar; documenting Myaamia ethnobotany practices; and development of curricula and training materials for teaching and learning the Miami language. The center also offers educational opportunities for both tribal members and the larger student body of the university.
Baldwin is a mentor and inspiration for other indigenous groups undertaking language revitalization efforts through the National Breath of Life workshops, which provide guidance for accessing and using archival materials held in D.C.-based archives and libraries. Through his long-term, whole systems approach to restoring the linguistic and cultural heritage of the Myaamia people, Baldwin is working with his community and center staff to make available important knowledge and create a hopeful vision for future generations.
Daryl Baldwin received a B.S. (1996) and an M.A. (1999) from the University of Montana, and he is a citizen of the Miami (Myaamia) Tribe of Oklahoma. He began his work with his family in 1991, later helping initiate community programs in 1995. In 2001, he became the founding director of the Myaamia Project, which in 2013 became the Myaamia Center, in affiliation with Miami University of Ohio.