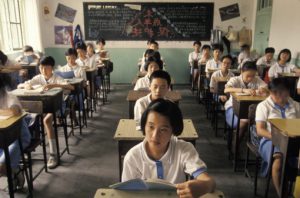 China will introduce a National English Proficiency Test by 2020 as implemented by China's State Council. The council set out the national foreign language proficiency testing goals in 2014, where they stated that China needs to build a "standardized, consistent, functional, and modern system" by 2020.
Vice Minister of Education Lin Huiqing spoke at the second International Symposium on Language Testing and Appraisal in Hangzhou, China, and said that the system would unify the varying standards currently implemented, combining them into one system that is "scientific, systematic, and selective" that will strengthen the consistency of training.
The National English Proficiency Test will test competencies in listening, speaking, reading, and writing along with a "pragmatic competence" scale that will test abilities in practical language skills needed to communicate in cross-cultural situations.
There are currently many English language tests in China for different levels of comprehension. The scope of the new system surpasses English curricula in other countries, and the standards will consolidate various stages of learning, and inspire a varied scope of study across regions and ethnicities in order to receive a full breadth of knowledge of English.