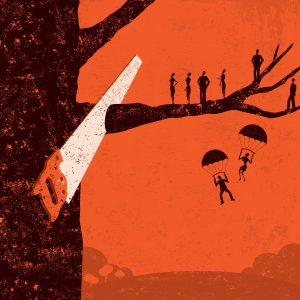 While boosting defense spending by $54 billion, the Trump administration's proposed FY 2018 budget seeks to cut the Education Department's $68 billion budget by $9 billion, or 13% in the fiscal year starting October. Requested cuts to the State Department and USAID would amount to another $10.1 billion, 28% reduction from the 2017 level.
Although spending on the Education Department's two largest K-12 programs (Title I for disadvantaged students, and funding for special education under the Individuals With Disabilities Education Act (IDEA) would not be reduced, many programs would be scrapped, including Title II Grants for Teacher and Principal Training (currently $2.3 billion), 21st Century Community Learning Centers ($1.2 billion), Comprehensive Literacy Development Grants ($190 million), and Teacher Quality Partnership Grants ($43 million).
TRIO for disadvantaged K-12 students and first-generation college students would be cut by roughly $100 million to $808 million and GEAR UP, which prepares low-income students for postsecondary opportunities, would be cut by about a thrid to $219 million.
California State Superintendent of Public Instruction Tom Torlakson called the proposed budget "very disappointing and goes in the wrong direction with funding cuts that would hurt disadvantaged children, after school programs, teacher training, and other important services."
"These devastating cuts shortchange our schools. By failing to invest in our students, we fail our society, our economy, and our nation," he said. "This proposal takes us backward, jeopardizing California's progress in improving our schools and preparing students for college and the 21st century economy."
Trump's budget proposal also sets aside $250 million for a nationwide voucher program that would give public money to private schools. "Voucher programs take taxpayer dollars away from public schools, starving them of the resources they need to provide a first-class education to students who remain in public schools," commented Torlakson.
The National School Boards Association (NSBA) called recent statements by the Trump administration about education "troublesome,"adding that "the profound lack of knowledge about public education, as reflected in comments about public schools being "flush with cash" and badly underserving the nation's children, coupled with policy proposals based on these "alternative facts", pose a threat to a high-quality education for more than 50 million students."
Education organizations across the nation are mobilizing to challenge the proposed budget cuts not only to the Education Department but also the proposed funding cuts to the Department of State's Educational and Cultural Exchange (ECE) Programs.