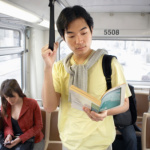 As eBooks continue to dominate the literary market and tablets take over our nightstands, new research pours in on the superiority of paper books: in December, Language Magazine reported on the detrimental effects of eReaders on sleep quality (see "Paper Books are Better in Bed") and now researchers are analyzing the effects of eReading on our waking hours.
A new book by Naomi S. Baron, Words Onscreen: The Fate of Reading in a Digital World, has some surprising data about millennials, the first generation of so-called digital natives. In her findings, Baron reports that millennials prefer reading texts on paper. In one survey that Baron conducted on college-aged students in the U.S., Japan and Germany, millennials reported that while they appreciate the environmental benefits and cost-saving of eReading, many prefer physically turning pages and holding a tangible copy of the text, while complaining that eReaders lack this element of physical interaction. The students insisted that digital texts make it more difficult to concentrate and retain information. The millennials surveyed also recognized that paper books tend to demand undivided attention in a way that eBooks do not: when asked if they were likely to multitask while reading, 90% of students reported that they were more likely to multitask while using an eReader while only 1% reported likely multitasking with a paper book. Baron also cites an E.U.-based study that asked students to write essays about reading and yielded similar findings. Students praise eBooks for their portability and convenience, but praise paper for the aesthetic experience and deeper engagement with the material.
Baron's findings and the other research she cites have serious implications for educators and new generations of readers. The distraction factor calls into question the unintended consequences of having iPads in all K-12 classrooms and the now-ubiquitous PDFs circulating in universities.