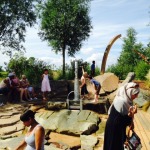 The British education minister, Nick Gibb, is insisting that immigration is raising academic standards in the UK because pupils who speak English as a second language (ESL) tend to be academically more able thanks to having learned another language.
Gibb's statement contradicts the majority of his Conservative Party's supporters and many school principals who are complaining that the influx of migrants are harming school standards, he tells them they should be doing better.
The comments also contrast with those of Britain's Work and Pensions Secretary, Iain Duncan Smith, who last week said that new arrivals in many communities "literally change the schooling because so many people arrive not speaking English."
Last month, Sir Michael Wilshaw, the chief inspector of schools in the UK, said schools were struggling to cope with an "influx" of migrant pupils – and that the lack of resources to deal with them was now a "big issue."
Immigration opponents are claiming that there is a serious shortage of places at elementary schools, where one in five pupils now speak English as a second language. In some parts of London, ESL students now make up as much as three-quarters of the school roll.
Speaking on BBC radio, Mr Gibb said he did not accept that immigration was causing "problems" in schools. "Children who speak English as a second language tend to push up the academic standards in schools because they've learnt one language already," he said.
"Those schools that tell me that they are struggling with their results because of higher proportions of children with a second language as English, I say to them their results should be higher still because those children have proven themselves able to learn another language and they are very academically able.
"So I don't really accept that we have problems in our schools so far as population is concerned. We are expanding the number of school places in our schools, we've given billions of pounds, £5billion [$8 billion] more money to local authorities to build more school places in our country."