Google Launches Endangered Language Project
The web behemoth, Google, knows that knowledge is power, and as the world's largest purveyor of information, Google has risen to the opportunity to use its power for good in an attempt to salvage the world views that become obsolete when languages die.
Some have raised the question about the stake Google has in preserving the world's languages. The company, which has in the past been criticized for spreading itself too thin, reiterates that Google is in the business of knowledge sharing. The Endangered Languages Project website states: "With every language that dies we lose an enormous cultural heritage; the understanding of how humans relate to the world around us; scientific, medical and botanical knowledge; and most importantly, we lose the expression of communities' humor, love and life. In short, we lose the testimony of centuries of life."
The Endangered Languages Project is accessed on a dynamic and interactive website that displays a map of the world freckled with different colored dots, each of which represents the location of a language at-risk. Each color represents the severity of endangerment that the language faces, and includes some languages that are already extinct. Users can click a dot to reveal the name of the language, and then click on the name to be redirected to a page about the language of interest including uploaded videos, papers, and information about the language and its living speakers. Anyone can upload and share information and documentation of the over 3,000 languages available on the Project's website.
The main objective of the Project is to foster the preservation of rare languages while creating a space through which linguists, native speakers, and language learners across the globe get in contact and work together. This is very clear in the Endangered Languages Project forum. Any user can create a thread dedicated to any language and connect with other interested internauts from around the globe. Deterritorialized speakers of endangered languages can reach out to others regardless of their geographical location.
The Endangered Languages Project is overseen by the newly created Alliance for Linguistic Diversity, which is made up of various institutions of language preservations, university departments, and indigenous language projects. The Alliance is accepting applications from organizations that would like to be a part of the Project.
Bilingual Reading over the Summer
The Read Conmigo bilingual literacy campaign has announced an initiative to help prevent children's summer reading skill loss. Read Conmigo has created a list of summer reading tips for families:
1.   Make sharing books together a consistent part of your family fun this summer.
2.   Set a good example by reading your own books in front of your children.
3.   Create a summer reading list with your child. Many schools and libraries offer lists by grade level.
4.   Read aloud to your child, and have them read aloud back to you.
5.   Let your child select books and topics that are especially of interest to them.
6.   Read and discuss books about your planned summer activities (camping, swimming, sports).
7.   Pack books and take them along on summer trips and outings together.
8.   Encourage your child to keep a "Summer Reading Journal" and write about the books they read.
9.   Praise your child upon completion of a reading assignment or a reading challenge during the summer.
10. Share your favorite books from your own childhood with your kids.
How does Read Conmigo help? "Many Hispanic parents who don't read English fluently hesitate to read to their children at home. However, studies show that bilingual reading is equally effective at maintaining and improving reading skills and educational levels," said Alberto M. Carvalho, Superintendent of Miami-Dade County Public Schools. "Read Conmigo is an exemplary corporate initiative that provides valuable resources to parents and teachers on the frontlines." The Read Conmigo campaign has distributed more than 200,000 free bilingual reading books given to parents, children, teachers and schools across America.  A complete list of reading tips and resources for parents will be available and updated regularly during the summer at www.readconmigo.org.
Parents participating in the Read Conmigo Summer Reading Academy can register their children online for the summer's "Create a Story" contest at www.readconmigo.org/authors, to win a Kindle Fire for their home (and the chance to have their winning manuscript published as a Read Conmigo book). A jury will select contest winners in August, right before back-to-school. The free Read Conmigo Summer Reading Kit is available at select Infinity Auto Insurance locations all summer long (visit www.readconmigo.org/summer for locations).
El Día E
Tomorrow, the Instituto Cervantes will celebrate the fourth annual Día E (Español) in its 77 centers in 44 countries spread across all five continents.  The fiesta will start in Sydney and then continue worldwide.
To find out what's happening at your local Cervantes Institute (inc. New York, Albuquerque, Boston, Chicago and Seattle), visit http://www.eldiae.es/
The party celebrates the good health of the Spanish language which is spoken by 500 million people.
World Refugee Day
Language educators are well aware of the struggle facing refugees. But, take the time to spread the word about the plight of refugees around the world to all the people you know.
Today, 43.7 million men, women and children are displaced from their homes around the world.
The UN Refugee Agency provides shelter, clean water, nutritious food, medical care and education opportunities for refugees and displaced people around the world; caring for 35.4 million people in desperate need.
For more information on ways to increase awareness,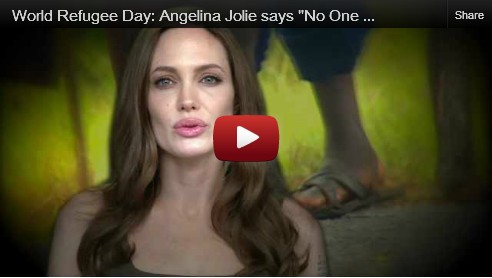 visit the UN Refugee Agency website
State Dept Chooses Kindle for Worldwide English
In an effort to promote English literacy around the world, the U.S. Department of State is planning to purchase up to 35,000 Kindle e-readers as well as selected content. The Kindles would be distributed to U.S.-friendly educational centers around the world so as to be available to those looking to study English and learn about America.The State Department has long sent out books to its overseas embassies for English language programs, but now it wants to replace physical books with e-readers — and it has its sights set on the Kindle. In a Justification and Approval notice filed on June 7th, the Department proposed a five-year contract with Amazon, which is estimated to be worth more than $16 million, including an initial order of 2,500 Kindles loaded with 50 unspecified books.
The e-reader contract was not open for bidding as the State Department went directly to Amazon. Kindle was reportedly selected because of features such as foreign language support, a built-in English dictionary, and the ability to translate text to speech. Based on the lengthy list of requirements, it appears that the Kindle Touch is the only device on the market that suits. The Department specifically listed the iPad as an unsuitable option because it presents "unacceptable security and usability risks for the government's needs in this particular project" due to its additional features. Previous programs, such as Worldreader's efforts in Ghana, have found that children in developing countries are able to learn how to use Kindles very quickly.
Secretary of State Hillary Rodham Clinton and Amazon.com Founder and CEO Jeff Bezos will announce the global launch of the Kindle Mobile Learning Initiative on June 20 in Washington, D.C. This public-private partnership with Amazon.com and the U.S. government will create a global e-reader program that introduces aspects of U.S. society and culture directly to young people, students, and international audiences in new ways while expanding English language learning opportunities worldwide.
Roth Wins Spanish Literary Award
In another example of literary globalization, American writer Philip Roth has been awarded Spain's prestigious Prince of Asturias literature award (El Premio Príncipe de Asturias de las Letras). The 79-year-old author of the Pulitzer Prize-winning novel American Pastoral edged out 23 other contenders to take the 50,000-Euro prize.
Born in New Jersey in 1933, Roth had his first book Goodbye, Columbus, a collection of stories about Jewish life in America, published in 1959, and it immediately won him literary prestige in the U.S.
The Spanish awards, named after Crown Prince Felipe, are presented in the city of Oviedo, capital of the northern Asturias region, in a star-studded ceremony that will be broadcast live on Spanish television.
Winners also receive a sculpture designed by the Catalan artist Joan Miró.
French Heritage Summer Camp 2012, c'est parti!

This year the French Heritage Language Program will be giving 20 disadvantaged French-speaking high school students from the Bronx, Queens and Brooklyn the chance to discover a Francophone country in America by organizing a summer camp in Québec from July 2nd -12th. Activities will include the Global Forum of the French language organized by the Organisation Internationale de la Francophonie (OIF), cultural and historical museum visits, guided tours of Montréal and Québec City, the Assemblée Nationale du Québec, French music concerts, and visits of major universities. The cost of this educational trip is estimated at $1,500 per student but registration fees will be capped at $150 per student in order to respond to financial capacities (some partner schools are even paying for this small student contribution).
Although the program has already received strong support from the Organisation Internationale de la Francophonie and other partner foundations, they need another $3,000 to close the budget and make sure all 20 kids will fully benefit from all that this camp has to offer. In order to help them reach that goal they have just launched a crowdfunding campaign thanks to the website www.ulule.com.
Take a look and join the project at : http://www.ulule.com/fhlpquebec/ 
Federal Report Supports Bilingual Education

The Department of Education has published a new literature review that consolidates the findings of over 200 articles, reports, and books that pertain to language instruction. The review, "Language Instruction Educational Programs (LIEPs): A Review of the Foundational Literature," was conducted by edCount and examines the research literature on a range of topics that may factor into LIEP design and function, in order to support school districts in their decisions about how to choose appropriate LIEPs for their students' needs.
The review focuses on six primary research areas and explores how they can be applied in the LIEP classroom. These areas are: theories of second-language acquisition; the construct of academic English language; models and considerations for LIEP design; instructional practices and professional development; school district, school and community culture; and indicators and evaluation of success.
The general findings of the review show that ELLs who have some kind of language support or specialized instruction perform better than those who do not, although no single approach to specialized instruction, whether bilingual or ESL, is successful with all ELLs at all times. The review points to the need for special attention to newcomers, or recently arrived immigrants who may have had interrupted or no prior formal schooling. Secondary schools especially need differentiated support for newcomers.
The review supported bilingual approaches, citing two meta-analytic research syntheses, and one large-scale descriptive study that found that students who receive native language instruction go on to reach the same or higher levels of achievement in English as those who do not. These syntheses also found that native language skills play a positive role in the development and acquisition of English language skills. One descriptive study also found evidence of transfer of academic language skills from students' native language to English.
In looking at the outcomes of an ESL approach, there is evidence that ESL models (language- or content-based) are likely to produce better outcomes on various academic performance measures than general instruction in English that does not follow an ESL model or acknowledge ELLs' specific linguistic needs. Models under the ESL approach may focus on language instruction alone, or they may integrate language and content instruction. The review notes that experts agree (that the strongest programs include both dedicated language instruction and specialized content instruction.
The review reports on twelve emergent themes that summarize edCount's overall findings:
1. High standards and challenging content are good for ELLs.
2. Having a LIEP Is important.
3. No one approach or model is appropriate for all ELLs.
4. Instructional practices are important variables in LIEP design and implementation.
5. Literacy and oral language development in English are critical instructional components for any LIEP.
6. Academic language seems to be important in ELL instruction.
7. ELLs need instruction that is specifically cognizant of their needs as second-language learners.
8. Teachers need to be prepared to teach ELLs.
9. Newcomer models are a programmatic option that school districts may use to meet the needs of identified ELLs at the secondary level.
10. ELLs' scores on academic content assessments should be interpreted with great care.
11.Current assessments may not be sufficient measures of the linguistic proficiency necessary to support success in mainstream content classrooms.
12. Culture and community matter.
For more, visit www.edcount.com
 Swiss Get Practical
<h3>Immigrant language program focuses on daily verbal challenges</h3>
<strong>The Swiss Migration Office has launched a language training system </strong>specifically defined around the integration needs of migrants. The program will be gradually introduced in collaboration with the cantons this summer.
"FIDE – learn, teach and assess French, Italian and German in Switzerland" is the training system will become the national immigrant language training program.
Its focus will be on giving immigrants the language competence needed to undertake such ordinary tasks such as consulting a doctor or attending parent-teacher meetings.
"Mastering the language is an essential condition for successful integration. Anyone who wishes to get around successfully in the country they have chosen to live in must be able to understand what is going on around them and to make themselves understood," Justice Minister Simonetta Sommaruga said in a statement.
"The objective is not to pass an abstract written test, but to be able to cope with daily challenges. So FIDE is suitable even for people who have no schooling or little formal training."
The language training system was developed in collaboration with the Institute of Multilingualism at Fribourg University and designed on the basis of a survey of more than 300 immigrants and professionals from all walks of Swiss life. It is based on the common European framework of reference for languages (CEFR) and adapted to the specific needs of Switzerland, where the situation is complicated by the fact not only that it has four national languages, but that the spoken and the written language can differ considerably, especially in German-speaking areas.
Technology Rescuing Sanskrit
Developing new grammar software. Rallying a Wikipedia community. Preparing for new seminars and workshops. These are just a few of the actions taken to ensure that Sanskrit, one of the original tongues of India, continues to exist. A group of scholars and students are working to make sure the language does not suffer the same fate as ancient Greek or Latin.
Mahatma Gandhi said, "Without the study of Sanskrit, one cannot become a true learned man." German philologist Max Muller added, "Sanskrit is the greatest language of the world."
Sanskrit has been aided by new technological resources and is more popular than it ever has been. "There is no other language, which is being supported so thoroughly and comprehensively, not just in Gurgaon, but in other parts of the country too," said Dr Shreyansh Dwivedi, a member of the department of Sanskrit in SCERT, Gurgaon, in an article by the Times of India.
Officials of schools such as the Haryana Sanskrit Academy believe that younger students demonstrate an interest in the dialect and are more likely to obtain language degrees in Sanskrit.
"Earlier this month the Delhi Sanskrit Academy held a one-day workshop, where hundreds of young people turned up. It's only a matter of making the language accessible, and Sanskrit will find many takers within no time," a representative of the academy told the Times of India.
In an effort to ensure that India's other indigenous languages survive, Wishtel, a Mumbai-based company, last month launched two tablet PCs, Ira and Ira Thing, which support 23 Indian languages.
The seven-inch portable devices run on Taiwanese chipmaker VIA Technology's 800 MHz processor and operate on the Google Android ecosystem. While Ira sports a TFT LCD resistive touch screen, 256 MB RAM and 2GB of storage, the top-of-line Ira Thing features a capacitive touch screen, 215 MB RAM with 4 GB of storage. They are priced at Rs. 4,000 ($78) and Rs.5,500 ($107) respectively.
Users will not only be able to see the menu options in their regional language, they will also be able to type and view regional language content. Native Apps also includes an eBook reader that will allow users to read content in Hindi and other languages.
Wishtel is offering the first tablets to educational institutions. The company is running trials on a proprietary content delivery network, through which it hopes to deliver educational content, including digital textbooks and multimedia.
The low-price tablet segment is booming in India ever since the government announced the Aakash Tablet in October 2011. Ira was designed to  the specifications of the Indian Institute of Technology Rajasthan, as part of a low-cost computing devices project. They are made in the Indian provinces of Maharashtra and Gujarat.
New French Prime Minister Speaks German
In a revealing move, the new French President, François Hollande, has appointed a German-speaking Prime Minister.
Jean-Marc Ayrault, a self-confessed Germanophile, will be the new President's right-hand man and is likely to be instrumental in forging good relations with German Chancellor Angela Merkel as France seeks support for M. Hollande's proposed shift away from austere economic policies.
The announced the choice Tuesday afternoon, hours after Hollande was sworn in. The 62-year-old Ayrault succeeds conservative Francois Fillon as the head of government.