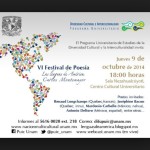 The Universidad Nacional Autónoma de México is preparing for the sixth Festival de Poesía Las Lenguas de América, Carlos Montemayor (The Languages of America Poetry Festival, Carlos Montemayor), which will take place on October 9 on the Mexico City campus. The biannual festival brings together the best poets to represent some of the over 800 languages spoken in the Americas, including languages that originated in Europe and arrived with the colonists (English, Spanish, French and Portuguese). The festival takes its name from Carlos Montemayor (1947-2010), who founded the event in 2004.
This year, 12 poets will read in their 12 respective languages: from Mexico, Mardonio Carballo will read in Náhuatl, Ruperta Bautista will read in Tzotzil, Antonio del Toro will read in Spanish and Adriana López, an anthropologist from Chiapas, will read in Tzeltal; Hugo Jamioy from Putumayo, Colombia will read in Kamsá and Vito Apüshana, also from Colombia, will read in Guayuu; from Canada, poet and filmmaker Josephine Bacon will read in Innu, Renaud Longchamps will read in French and Sheri D. Wilson will read in English; Isaac Carillo, winner of the Nezahualcóyotl Prize will read in Yucatán peninsular Maya; Liliana Ancalao from Rivadavia Argentina will read in Mapuche; and Brazilian poet, Salgado Maranhão, will read in Portuguese.
The festival seeks to increase interest and awareness of the languages indigenous to the Americas without distinguishing between languages and dialects, to promote the idea that no language is superior to another. UNAM will be livestreaming the event. For more information, visit www.nacionmulticultural.unam.mx.