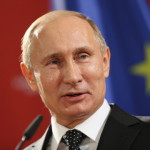 While France's Minister of Culture decided that fighting the inclusion of foreign words was hurting, rather than preserving, the French language, Russia remains resistant. President Vladimir Putin has launched a number of initiatives to preserve the "purity" of the Russian language, including declaring this year Russia's Year of Literature. Putin told several dozen government officials, writers and education managers, who participated in a joint meeting of the Council for Interethnic Relations and the Council for Russian Language that the overall language environment "is now formed primarily by the media, the Internet and television, where language norms and elementary grammar rules are being ignored ever more frequently and linguistic borrowings from other languages are used excessively, often without any obvious need."
Putin said that Russia is home to 193 ethnic groups and nationalities that speak almost 300 languages and dialects, and despite the country's linguistic diversity, more than 96% of people in Russia speak Russian. In an obvious referral to Ukraine and the Baltic states, he said that "Other countries […] ignore or limit the right of significantly large ethnic groups to use their native language, [in order] to conduct a tough, aggressive policy of linguistic and cultural assimilation." He continued, "We see what this may lead to: the division of society into 'full-fledged' citizens and 'inferior' ones, into 'citizens' and 'non-citizens' and even to outright tragic internal conflicts." Putin further recognized the importance of diversity and by saying, "It is very important to further expand the multilingual educational and information space. This includes support for print and electronic media and publication of works of literature in the languages of Russia's peoples." While acknowledging that the preservation of a native language is a preservation of identity, he emphasized the importance of Russian as a unifying language, and hopes that the upcoming Year of Literature will help develop and support this.
The full transcript can be read here.