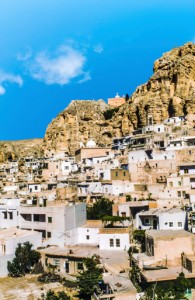 The survival of Aramaic, once the Middle East's lingua franca, is in jeopardy amid regional turmoil.
Recently, the Syrian government sent troops to the ancient, predominantly Christian village of Maaloula, where rebels have battled against the regime. Maaloula, a scenic village of about 3,300 perched high in the mountains, is one of the few places in the world where residents still speak a version of Aramaic, the language of biblical times believed to have been used by Jesus.
Prior to the incursion, the United Nations Educational, Scientific and Cultural Organization (UNESCO) had already listed it as an endangered language in Iraq, Iran, and Syria.
"Aramaic boasts an exceptionally long, continuously documented history of over 3,000 years, longer than all other known Semitic languages to which, for example, Arabic and Hebrew also belong," Paul M. Noorlander, a researcher from Leiden University's Centre for Linguistics, told Al Arabiya News.
Western neo-Aramaic "is now confined to a couple of diminishing thousands of mainly Christian but also a few Muslim speakers from a few villages in Syria, among them well-known Maaloula, belonging to the UNESCO World Heritage," he said.
Maaloula is a village located 56 km northeast of Damascus. About 2,000 of its people, according to a 2005 census, speak Western Aramaic, the language of Jesus Christ. It is one of only three villages where Western Aramaic is spoken in Syria. Noorlander estimates that there were about 150 Eastern Aramaic dialects spoken by Jews and Christians in Iraq, Iran, and Turkey. However, many of these dialects have disappeared as Jews moved to Israel and Christians to the West.
In November, the World Council of Arameans urged Turkish Prime Minister Recep Tayyip Erdogan to recognize and support the country's "indigenous" endangered Aramean people.
The NGO called for the constitutional recognition of Arameans as a minority. While there are Assyrian schools in the northern semi-autonomous region of Kurdistan in Iraq, the Kurdish authorities have been criticized for "trying to make life difficult for those schools and force them to teach false Kurdish history in order to Kurdify the next generations."
After the fall of the Ottoman Empire, the emergence of nation states such as Iraq, Iran and Syria heralded the beginning of Kurdish struggles for independence.
Noorlander explained that: "Aramaic speakers found themselves largely in the cross-fire between Kurds and central governments."
The researcher described religion as key in keeping the language alive, but also "the attitude of the speakers themselves, wherever they may find themselves, is fundamental.