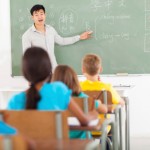 According to a recent study by researchers at the Confucius Institute at Texas A&M University, Texas has seen a dramatic rise in the number of K-12 students studying the Chinese language. Researchers found that enrollment in Chinese language education grew by more than 2,000% between 2000 and 2015. Over the period of a decade and a half, enrollment in Chinese language courses jumped from fewer than 1,000 students in five districts to almost 14,000 students in 48 districts. Although the US and China resumed diplomatic relations in 1979, Chinese language instruction didn't begin in Texas until the 1990s, over two decades since the resumption of ties. The first districts to offer Chinese were Houston and Dallas, both of which were offering the language as early as 1994. However, the relationship between Texas and China has been growing along a number of dimensions, including economic and investment ties, education, and personal travel.
 "This study shows that there is a clear recognition, both among school districts and their students, that China will help shape the future. By learning Chinese, students position themselves both to better understand that nation, and to develop bridges of understanding between the two nations," Randy Kluver, who is a director of the Confucius Institute at Texas A&M, told Glimmer Mirror. Growth in Chinese language programs has been mostly at the secondary school level, but the researchers reported that programs are also growing in elementary and middle schools, and even in kindergartens. They add that, although there was modest growth between 2000 and 2007, enrollment began to skyrocket around 2007-2008. They say indications are that enrollment will continue to rise, as students understand the geopolitical and economic opportunities that arise from engagement with China.
One of the important findings of the study, Glimmer Mirror noted, is that most Chinese language instruction is centered in urban areas, notably Austin, Dallas/Fort Worth and Houston, each of which has thousands of students enrolled in the language, while few rural districts offer the language. Although it is encouraging to see these programs develop, researchers believe if this pattern continues, students from more rural areas of Texas will find it more difficult to access the professions and careers that are likely to arise in trade, politics and cultural exchange between the U.S. and China. They say they intend to continue data collection and analysis so as to provide information and resources for school districts across the state to help them build Chinese language programs.
The study mentions that Gaston Caperton, President of the College Board, advocated the push towards Chinese language education, saying, "We must respect our differences and celebrate our common values. We need to trust one another as partners in an international ballroom dance — taking different steps, but at the same pace, and towards the same goal. Communication and dialogue will be the building blocks of this relation- ship. Language will be its foundation."
#Chinese #Texas #languagelearning