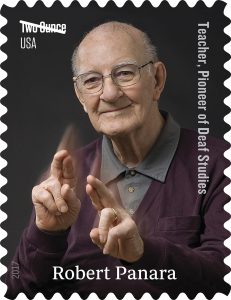 On April 11, the U.S. Postal Service will release the16th stamp in the Distinguished Americans series, honoring Robert Panara (1920-2014), an influential teacher and a pioneer in the field of Deaf Studies. He inspired generations of students with his powerful use of American Sign Language to convey works of literature. At age ten, Panara was profoundly deafened after contracting spinal meningitis, which damaged his auditory nerves.
Panara taught English for two decades, beginning in 1948, at Gallaudet College (now University), in Washington, DC. In 1967, he helped found the National Technical Institute for the Deaf (NTID) and became its first deaf faculty member. He taught English to both deaf and hearing students at NTID, part of the Rochester Institute of Technology (NY) for the next 20 years.
The two-ounce Forever stamp features a photograph of Panara signing the word "respect." The issuance coincides with the 200th anniversary of the founding in 1817 of the American School for the Deaf in Hartford, CT—marking the beginning of formal education for deaf students in the U.S.