To coincide with the annual ISTE EdTech conference, Language Magazine is offering readers a two-dimensional glimpse of some of the sector's latest offerings
Literacy
ReadingIQ
Age of Learning recently launched ReadingIQ, an advanced digital library for children twelve and under with thousands of high-quality books, all curated by experts to advance literacy.

Available on computers, tablets, and smartphones, ReadingIQ gives families and teachers access to the best of children's literature, including Caldecott and Newbery award winners, and the largest collection of National Geographic Kids digital titles available anywhere. The entire library is leveled and easily searchable by topic so that children can find titles that match their reading ability and interests. ReadingIQ also includes professionally voiced titles to support engagement and comprehension for prereaders and developing readers.

As with Age of Learning's ABCmouse, ReadingIQ is available at no cost to teachers for classroom use, with the ability to assign books to students to read in class or at home. Teachers can set independent student reading levels using Accelerated Reader, Lexile, Guided Reading (F&P), or grade level to ensure students have access to books at the appropriate levels—perfect for differentiating instruction. With ReadingIQ, teachers can also set reading goals and track progress.

The company has integrated new reading-comprehension quizzes to further engage and motivate children. These "show what you know" quizzes are presented at the end of hundreds of books in ReadingIQ.
www.ageoflearning.com
Speak Agent

Speak Agent is an evidence-based K–8 supplemental program to help students acquire the academic language for STEM subjects. Research shows that academic language is the greatest barrier to K–12 success, especially for English learners and disadvantaged students. A study sponsored by the National Science Foundation found that Speak Agent accelerates STEM concept learning by a factor of three with only 30 minutes of use per week. Speak Agent achieves this by integrating content and language through interactive game-based activities that combine listening, speaking, reading, writing, and visual learning modes. The Speak Agent digital platform can be used to create a tailor-made supplemental program to precisely fit any K–8 curriculum. It also supports bilingual and multilingual program models.
www.speakagent.com
Renaissance

As the result of two new partnerships, Renaissance has added tens of thousands of new test items and more than 100,000 open educational resources (OERs) to its Renaissance Growth Platform.

The Renaissance Growth Platform powers the company's award-winning assessment and reading practice solutions, including Renaissance Star Assessments and Accelerated Reader. Built with educators in mind and designed to help students shine, the Renaissance Growth Platform seamlessly connects assessment, practice, analytics, and more to give educators the information they need to create engaging learning experiences for their students.

One of the partnerships, with Discovery Education, will bring more than 20,000 test items in subjects such as math, reading, and science into Star Assessments. The leader in digital curriculum resources, engaging content, and professional learning for K–12 classrooms around the globe, Discovery Education's services reach over 5 million educators and 51 million students in more than 90 countries.

A second partnership, with K–12 OER curator Knovation, will make more than 100,000 new resources from publishers such as PBS and the BBC available to Renaissance users. Now owned by ACT, Knovation offers a content collection of free, standards-aligned digital resources that have been evaluated and tagged for searching by a team of curriculum experts. The resources span all subject areas, grades, and types of learning resource.

Combined with the thousands of high-quality test items and instructional resources already available in the Renaissance Growth Platform, these new additions will allow for better understanding of students' skill mastery and better support of their varied interests, learning preferences, and scaffolding requirements.
https://www.renaissance.com/
SkateKids/Ramps To Reading

SkateKids and Ramps To Reading are online digital game-based supplemental reading programs built to stimulate and develop the cognitive processes necessary for learning to read while students build critical literacy skills. Ramps To Reading (ages four to seven) takes early readers from initial preliteracy levels to basic word reading and comprehension. Engaging games help learners acquire and practice skills in a developmentally appropriate sequence. SkateKids (ages seven to twelve) cultivates early readers in an immersive environment that scaffolds reading levels as it helps learners develop critical-thinking and metacognitive skills.

Based on the research of Dr. Jack Naglieri, SkateKids and Ramps To Reading directly develop cognitive processes including:
Planning: The student decides how to attack a task, exerting cognitive control over processes and knowledge with intentionality.
Attention: Focused cognitive activity and resistance to distraction are essential in the process of learning to read.
Simultaneous and sequential processing: Reading, like many other tasks, requires the brain to simultaneously process a mass of information and then to take in and manipulate the sequence of information, from the letters in a word to the sentences in a paragraph.
In addition to being based on neuroscience, the programs deliver the best of the digital gamification that students love.
Research with the programs in schools with economically disadvantaged students (Title I) have shown significant improvement compared to a control group in as little as 17 hours of use over an academic year. Over and over, students call the program "awesome."

BrainWare also offers:
Readable English, which accelerates the acquisition of reading skills and fluency through an innovative approach that makes English over 95% predictable phonetically. This approach is just being introduced to the U.S. from Australia. The program has been piloted in several schools in Indiana with dramatic gains shown for struggling readers, emerging readers and nonreaders.

BrainWare SAFARI, a research-based, comprehensive cognitive training tool delivered online, which focuses on developing the cognitive skills required to read fluently. The program has been particularly helpful for struggling readers and children who are dyslexic.

Lexia Core5 Reading, Version 4
To access and evaluate complex texts, students must develop deeper skills, language, and knowledge. These advanced literacy skills enable students to integrate concepts they read about with what they already know, which in turn empowers them to communicate complex ideas for diverse purposes.

To address those skills, Lexia Core5 Reading has expanded content for students in the upper-elementary grades 3–5. This latest version comes complete with three new levels to extend students' journey around the world, five brand-new activities, and over 240 new online units—each with added practice and explicit instruction when students need it. The enhancements to the product also include 120 new printable Lexia Lessons and Lexia Skill Builders that support Core5's powerful blended model and provide targeted intervention and practice.

Additionally, the literacy program offers students more than 275 high-interest passages that encourage connection and integration of ideas within and across texts. These passages include a wide variety of genres and text types, such as informational (science and social studies), poetry, drama, biography, authentic texts, persuasive, procedural, interactive diagrams, maps, and more.

For greater student-driven learning and advanced skill development, Core5 has been updated with new activity types to support learning of structural analysis, fluency, vocabulary, comprehension, and grammar.
www.lexialearning.com/products/core5
Istation

Istation has accelerated the launch of its Indicators of Progress (ISIP) Oral Reading Fluency (ORF) assessment program across the U.S. The program incorporates advanced speech recognition and digital recording technology to record students' reading and measure how accurately and fluently students can read grade-level text aloud.

Oral reading fluency—the ability to read connected text quickly, accurately, and with expression—is one of several critical components required for successful reading comprehension. Istation experts conducted extensive research in the main dialect regions of the nation—the Inland North, the South, and the West—to ensure the most accurate grading and reporting for each student. ORF also incorporates safeguards for reporting when English is not a student's first language. Thousands of elementary school students in the U.S. are already using the program during the pilot period, and even more schools can participate for the remainder of this school year—at no cost—by registering at www.istation.com/ISIPOralReadingFluency.
MakeBeliefsComix.com

At the website, students can create their own comic strips online and print and email them, which encourages writing and language acquisition. The site also features a variety of other resources to encourage writing and creativity, including hundreds of free printables, free interactive e-books, and a writing blog. MakeBeliefsComix is used by educators throughout the world to teach English and other languages and to encourage creative thought in young people.
www.makebeliefscomix.com
Growing Early Mindsets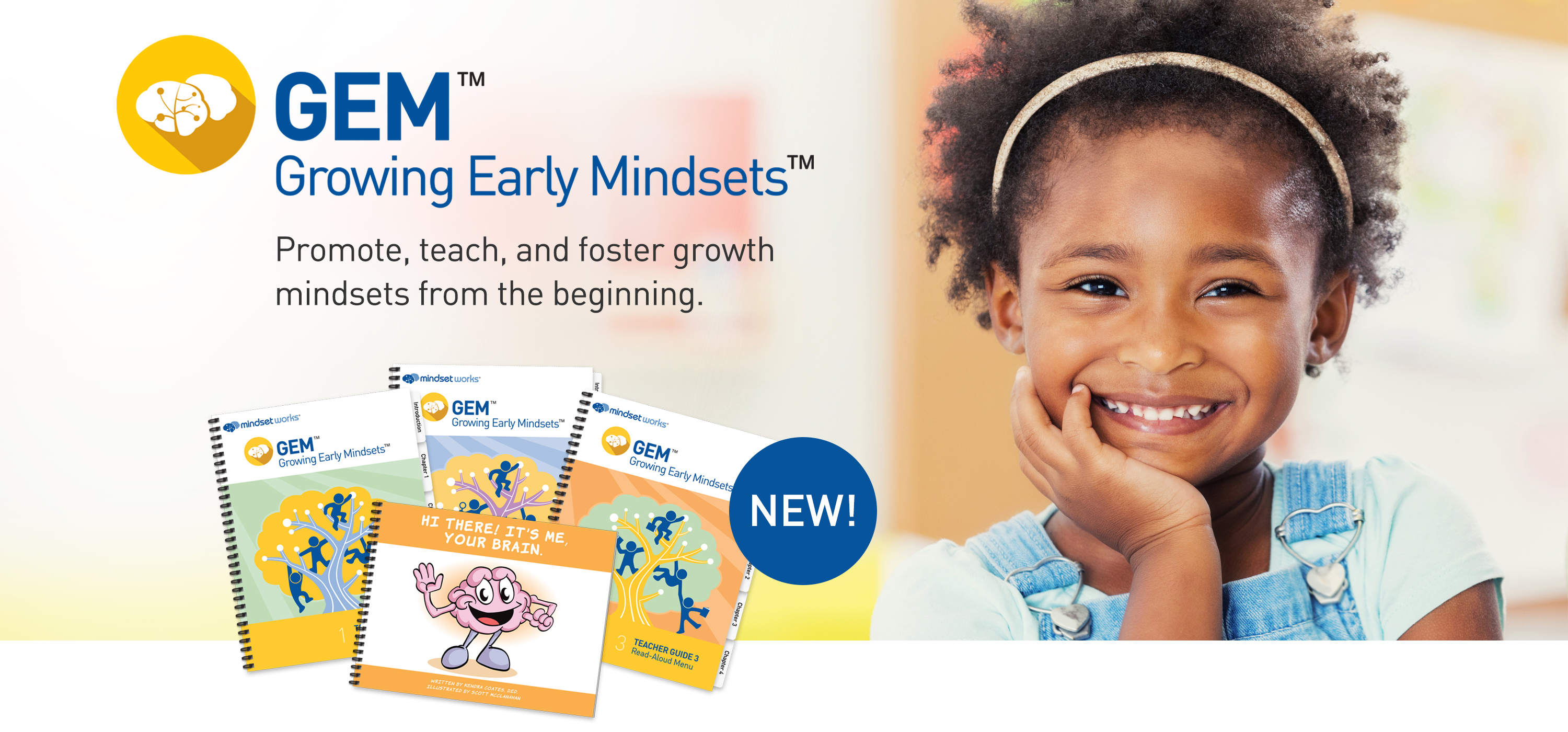 Mindset Works has introduced a flexible early-learning framework called Growing Early MindsetsTM (GEMTM), the first-ever literacy-based growth mindset, social and emotional learning (SEL), and mindfulness teaching and learning framework for pre-K–3 classrooms and programs.

Educators using GEM in their classrooms see learners take on new challenges, learn from their mistakes, put forth effort, and enjoy learning. Beyond academics, learners practice relationship-building skills with their peers such as cooperation and communication. Learners also gain awareness of their own growth and development, thus taking ownership of their own learning and growing with confidence.

GEM is a suite of literacy-based tools and resources that includes ten children's books, three teacher guides, and a virtual learning community where teachers can share, learn, and grow together in their GEM practice. Teachers can leverage GEM in their classrooms to promote, teach, and foster a growth mindset, SEL, mindfulness, and academic skills. For example, one book details the inner workings of the brain and shows how curiosity fosters a growth mindset.

GEM creates conditions for students to grow their enthusiasm for learning and their potential. Teachers can start using GEM today to cultivate a love of learning and promote positive academic and social and emotional outcomes.

www.mindsetworks.com/GEMWelcome
Hand2mind Daily Math Fluency

With more than 50 years of experience in education, hand2mind provides hands-on resources for math, science, STEM, and literacy. The company's mission is to support teachers, inspire students, engage parents, and champion learning by doing.

Products such as Daily Math Fluency give educators a ready-made solution to improving students' grasp of basic math facts through greater efficiency, better strategy, and higher confidence—in as little as ten minutes a day. Each kit comes with teacher resources including 120 number strings, 60 math talks, and demonstration manipulatives.
Many math experts explain that incorporating math talks in class is the single best way to increase number sense. Daily Math Fluency supports the initiative to develop a strong generation of critical thinkers. By using lesson tactics such as number strings, educators can open up the discussion about how a problem can be solved in different ways. Daily Math Fluency acts as a guide for educators to use effective numbers strings in the classroom.
hand2mind.com

World Languages
TrueNorth Oral Test

Emmersion Learning's TrueNorth is the first AI-powered speaking test to come to the field in over 15 years. Fully automated and machine scored, it eliminates the potential for human scoring errors. TrueNorth is the shortest oral proficiency test available (15 minutes) and is entirely online. TrueNorth is a low-cost tool because it does not require the use (and expense) of highly trained raters to score tests. In just a short time, many major corporations in the hospitality, heavy industry, healthcare, call center/BPO, and staffing industries have begun using TrueNorth at high volumes because of its cost savings and administrative efficiency. Institutions of higher learning are adopting it for placement, progress measurement, and exit, especially as they learn that it is now offered along with the WebCAPE placement test (see below for more). TrueNorth was developed by a team of PhD-level experts who studied at Brigham Young University and the University of Utah. In addition to TrueNorth, Emmersion recently acquired WebCAPE, a language placement test used by over 600 colleges and universities for the past 20 years and originally developed at Brigham Young University.
www.truenorthtest.com
Virtual Immersion

Though Immerse's VR platform, language learners meet with their instructors in virtual scenarios in real time. Students can practice a target language with an instructor in a virtual New York City, practice their presentation skills in a virtual Silicon Valley conference room, or hone a sales pitch in a virtual trade show. The program is fully focused on improving oral language skills through conversation-based modules and lessons, ultimately increasing confidence and proficiency.
www.immerse.online

Teacher Tools
Crio Interactive Lessons in Any Language

For language instructors, it can be challenging to find high-quality, relevant resources that speak to learners. Crio gives teachers the tools to create those resources by building their own lessons from scratch, remixing the work of others, and taking their paper-based activities digital. With Crio, a free interactive lesson builder from Curriculum Pathways, teachers can create digital lessons, assessments, tutorials, and other language-specific materials. Starting with instructional content, users can embed video, audio, and Google Drive files and add curated images and text. Text-based fields support characters in many world languages.

Learners' knowledge and comprehension can be assessed with multiple question types, including radio buttons, true–false, and checkboxes. Short- and long-answer questions encourage student expression of mastery, including support for performance-based assessment. Answer choices support text and images. Customizable feedback allows response to student answers with personal content including text, video, images, and audio in the language of instruction. Crio lessons can be shared among educators around the globe. The Crio community offers lessons for ready-made activities created by other instructors—or lessons can be customized to learners.

Many of the features in Crio can be specifically utilized to support language instruction. Tabs can be used to chunk content or display the same content in multiple languages. Tooltips—which show text when rolled over with a cursor—can be used to translate new vocabulary words or add more context, building scaffolding for learners of different abilities. Graphic organizers can be implemented as rubrics for grading.

For English language learners or Spanish learners, the Crio community is supplemented by the entire Curriculum Pathways website. The platform provides a variety of authentic resources that support ELLs at all skill levels as they interact with lessons, tools, and apps in core academic subjects.

For Spanish learners, content is readily available, including an animated Spanish video library. Spanish resources are aligned to ACTFL standards and can therefore be used as templates to create lessons and activities in other world languages.
Crio and all Curriculum Pathways resources are provided by SAS for free to all users.
https://www.curriculumpathways.com/portal/Crio

School Management
Substitute Teachers on Demand

Students on average spend roughly a full year of their academic careers with a substitute teacher, which can ultimately have a big impact on their achievement. Unfortunately, nearly half of the districts across the country are facing a "severe or somewhat severe" shortage of substitute teachers, leading to full-time teachers missing out on PD days, administrators forced to cover classes, and, in the worst-case scenarios, multiple classes combining into one.

Swing Education is helping to alleviate this shortage with its on-demand marketplace that matches high-quality substitute teachers with schools and districts that need them. Swing Education marries two methods schools currently use to find substitutes—staffing agencies that provide substitute teachers to schools and technology companies that offer software for schools to manage their own substitutes—to provide schools and districts with a complete substitute-teaching solution. Swing Education provides qualified substitute teachers and easy-to-use software to schools, helping to relieve the burden of substitute teacher hiring and screening, as well as substitute teacher management.

Swing Education's web app features a clear, accessible, and easy-to-use interface that accommodates users of all kinds no matter their backgrounds, age levels, and tech savviness. With the platform, administrators can reach hundreds of subs without ever picking up the phone. Even more, substitute teachers can accept requests on the go and via their mobile devices.

Swing Education also offers end-to-end substitute teacher services. In addition to providing schools with qualified subs, the company handles all billing/payment, support, training, implementation, and more for both substitute teachers and schools. The company's growing and diverse pool of substitute teachers consists of both veteran educators and those who are entering into the education community by substitute teaching.

To date, the company has helped more than 1,500 school partners, which serve more than 1.5 million students, fill 150,000+ teacher absences.
https://swingeducation.com/