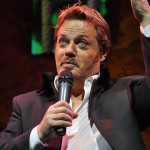 Emmy award-winning comedian and actor Eddie Izzard has been chosen as the UK's 2014 "public language champion" by judges from The Guardian newspaper and the British Academy.
The award was announced on Friday at the Guardian and British Academy 2014 Schools Language Awards in central London as part of the annual Language Festival. Guardian readers were invited to nominate public figures that promote the value of speaking another language.
Eddie Izzard is a long-time advocate for the importance of language learning. During his international tour Force Majeure, he uses Arabic, German, Spanish, and French. He even performed the show three times in three different languages to mark the anniversary of World War II's D-Day landings.
"I am very happy to win this award," said Izzard. "I believe we have to tell people that learning another language is actually an adventure. It is tough, it needs work, but what it will do is that it will open up another country to you with all the colors of their people, their food, their customs, their sports, and their culture. And, you will become better human being by going on that adventure."
Izzard had a starring role in the television series The Riches and has appeared in many films including Ocean's Twelve and Ocean's Thirteen. He also did voice overs in The Chronicles of Narnia: Prince Caspian (2008) and Cars 2 (2011).
Izzard recently told The Guardian: "There's a political basis for me to learning other languages, because if we don't come together in the world then the world's not going to make it."
The public language champion award is part of an ongoing campaign with the British Academy to raise the profile of language learning in the UK.