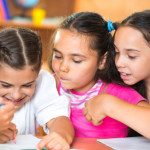 The Miami-Dade School district in Florida is postponing a scheduled change in the methodology of teaching foreign languages, namely Spanish. Superintendent Alberto Carvalho's original plan was to eliminate all traditional 30-minute-a-day Spanish classes and replace them with language immersion programs. However, both parents and teachers voiced concern. Rosa Castra Feinberg, who became the first Hispanic woman elected to the Miami-Dade School Board in 1988, called the plan "exclusionary" and "elitist."
The plan would not only mean that Spanish language teachers would have to teach classes in Spanish in subjects that they are not yet certified to teach, but that students who could not keep up with a more intensive curriculum would lose the chance for bilingual education entirely. Groups such as the NAACP, the League of United Latin American Citizens, and an association of Spanish teachers spoke out against the implication that students not involved in an intensive immersion program would get no foreign language instruction at all.
Carvalho reacted quickly to the community's concerns by postponing the policy to gather more opinions. "This summer we'll create a task force made up of educators, parents and stakeholders to help us come up with the best way to teach Spanish in the 21st century in a community going through a generational change," he told the Herald Editorial Board. "This has never been about getting rid of bilingualism; it's about improving the way we teach Spanish. The old way is not working and parents let us know."
Carvalho says he understands the value of bilingualism in a global economy and that the district spends $20 million a year providing world languages to students. Still, more and more parents are beginning to demand truly bilingual education, and through trial and error, districts like Miami-Dade hope to find the best way to achieve this without shutting out minority students.