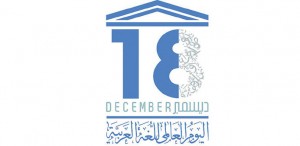 Celebrations are taking place across the Arabic-speaking world to mark World Arabic Language Day, which is observed on December 18 – the date on which the UN General Assembly approved Arabic as an official language in 1973.
The date coincides with Qatar's National Day – the annual commemoration of Qatar's unification and independence. Egypt's Supreme Council for Culture (SCC) is holding a conference on the language featuring some of the country's most renowned Arabic language professors and literary critics. The conference will discuss a number of related issues, including teaching Arabic to children and new styles in Arabic writing. A selection of Egypt's most famous poets – Ibrahim Abu Senna, Farouk Shousha, Hassan Teleb, Emad Ghazaly and Mohamed Shahawy – will take part in the conference's closing ceremony.
Emirates NBD, a leading bank in the region, announced today the launch of "My Heart Speaks Arabic," an initiative that seeks to celebrate the richness and beauty of Arabic language. The project will support the beauty of Arabic language through a three-pronged approach that includes organizing exhibitions and networking forums to showcase the Arabic work of regional authors, poets, artists and musicians, sponsoring or supporting organizations that work on like-minded initiatives and coordinating interactive fun activities in Arabic language on social media platforms. As part of this initiative, Emirates NBD has produced a song titled "My Heart Speaks Arabic" to be aired across all radio stations in the United Arab Emirates in early 2014. A series of animated cartoons on social media platforms also highlight the beauty of Arabic in a fun-focused initiative. #heartspeaksarabic
Irina Bokova, UNESCO Director-General commented, "World Arabic Language Day is an opportunity for us to acknowledge the immense contribution of the Arabic language to universal culture and to renew our commitment to multilingualism. Linguistic diversity is a key component of cultural diversity. It reflects the wealth of human existence and gives us access to infinite resources so that we may engage in dialogue, learn, develop and live in peace."
"The Arabic language bears the treasures of ancient Islamic wisdom and the voice of poets, philosophers and scientists who placed the strength and beauty of the language at the service of humanity," she added.
This year, UNESCO is emphasizing the particular the role played by the media to reinforce the use of Arabic, Bokova said in her message.
"The media are a key agent of public discourse, and UNESCO is committed to supporting the Arab media as forces of dialogue, information and citizenship. We should strengthen training for journalists and support for media development so as to ensure that Arabic is heard and read in the public arena," Bokova said.
"The Arabic language and the possibilities it offers can help the citizens of this globalized world to live together in their diversity," she added.
"Arabic bears the identities and values of 422 million individuals in the world and of 1.5 billion Muslims who use it for their daily prayers. It drives the reinforcement of the values we share. With this in mind, UNESCO supports the International Council for the Arabic Language, whose role is essential in connecting the Arabic-language cultures and cultures of other languages across the world."
For further details, visit:
www.unesco.org/new/en/media-services/single-view/news