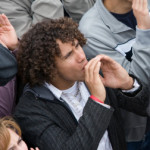 After a wave of school closures, students took to the streets in Dublin to protest exploitation and chaos in international education
Ireland is a popular study-abroad destination and enjoys a flourishing English-language education industry, estimated at raking in about €80 million for the Irish economy. However, on May 5 international students protested in Dublin trying to raise public awareness of Ireland's international education crisis.
The students complained that a recent wave of school closures, some without any notice other than a sign on the locked door, has jeopardized their education and their immigration status in Ireland. The students also sought protection for the tuition that was paid and lost. Fifteen schools have closed since April 2014 following a crackdown on illegal immigration practices at some schools. The protestors called for an emergency plan to help the thousands of students who were affected by school closures, and more government oversight and regulation of visa-issuing language schools that serve non-EU students.
In a statement, the Department of Education remarked, "Issues have arisen regarding the governance of a number of these colleges, with evidence of immigration abuse on the part of a minority of providers and students. These practices can have very serious implications for students genuinely arriving in Ireland to improve their English skills."
Most recently, the Carlyle College in Dublin closed its doors owing over €170,000 to students who had paid tuition in advance, but had not yet arrived in Ireland. Meanwhile, the owner of International Education Academy (IEA) fled to his native Brazil owing €160,000 to students who paid up-front for language courses and owing €25,000 in wages to school staff and faculty. IEA's owner, José Amaral, targeted Brazilian students with social media in Portuguese. Not only did he mislead students by falsely claiming that IEA won awards, but he had also been previously investigated for irregularities in IEA's visa services. Also in Dublin, teachers from the National College of Business Administration went on strike after not receiving pay for over six weeks.
The Department of Education in Ireland has promised to propose of package of reforms to the government, but this will be their second attempt. In 2014, new regulations were challenged in court by two colleges and struck down.