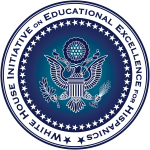 The White House Initiative on Educational Excellence for Hispanics recently launched a digital campaign to highlight the impact of Latino teachers and to attract more Latinos to the teaching profession, asking participants to share the stories of Latino teachers who have made an impact on their lives using the hashtag #LatinosTeach. "While the nation's student population is becoming increasingly Latino, its teaching workforce has been lagging far behind," Suzanne Gamboa reported for NBC News Latino. "According to the Department of Education, about 8% of the nation's teachers are Latino, while one in four of the nation's public elementary and secondary school students are Latino."
According to National Center on Education Statistics data, the five states with the largest Hispanic student-teacher gap are, in order (starting with the biggest gap), California, Nevada, Arizona, Texas and New Mexico. With the exception of Nevada, these states also are among the top 10 with the largest Hispanic populations in the United States. California is home to the largest Latino population in the country. There, the majority of students are Latino, and 73% are minorities, but only 29% of teachers are nonwhite, according to a 2014 Center for American Progress study.
"Some research has concluded that when black and Hispanic students are taught by teachers of the same ethnicity, their academic performance improved. At the same time, teachers are arguably one of the most influential role models students encounter outside of their own families. One study found that the teacher diversity gap was actually contributing to the high dropout rate among students of color," said Emily Richmond in a recent post on The Educated Reporter.
Through the #LatinosTeach campaign this week, anyone interested can nominate a Latino educator for special recognition on the White House Initiative on Educational Excellence's website by emailing information to [email protected].
#latinosteach #edchat #worldteachersday #teachersmatter