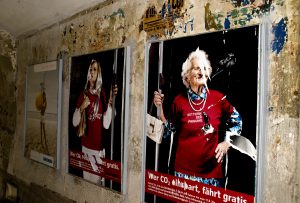 Leanna Robinson checks out the alt side of Germany
Post-internet art, technicolor hair, LGBTQ scenes, 24-hour clubs, underground performance art, postmodern paintings, tiny art galleries, avant-garde parties, electro music…travelers can find this and more when they stray from the beaten path in Germany. What better way to learn German than by being forced to yell over thumping music in the wee hours of the night to ask where the music is going to be the next night? What could be more fun than to chat with a German artist about the influence of their work?
There's no denying that Germany has become an epicenter of cool, and at the very center of that is Berlin. From artistic Americans to European expats to and the cool kids of Germany, Berlin is one of the most sought-after cities for those looking for something a little different.
If Berlin is the center of cool for Europe, then Kreuzberg is the center for Berlin. Those who live in or travel to this neighborhood may be shaking their head that I am doing the ultimate uncool thing of writing about the place, but the rest of the world deserves to know! Stretching from Bergmannstraße to the river at Oberbaumbrücke, Kreuzberg is home to exciting sights for visitors.
Those who are into nightlife should check out Vögelchen—a cozy hangout bar for artists, actors, and musicians, which is decorated like your favorite nutty aunt's house. For those looking for live-like-an-alt-local vibes check out Clash—the kind of punk dive bar you would expect to find in Berlin with cheap drinks, live music, and a closing time of 5:30 a.m. Prinzipal Kreuzberg lies in the heart of Kreuzberg on the popular Oranienstraße strip, feels like a secret speakeasy, and features acclaimed burlesque shows. The ultimate Berlin night spot, where you can be sure to find hundreds of alternative, artistic, fashionable people of dreams and nightmares, is Berghain. The nightclub recently won a legal ruling to be considered a 'high art' institution. The humongous, sprawling space is like the Holy Grail for young, artsy, party people in Berlin. The club is a mecca for dancing and partying, among other things, and has winding hallways, dark side rooms, and a no-photography no-mirrors rule that lets people party well past tea-time into the next day without worrying if their mascara is running.
Aside from nightlife, another place sure to find kindred spirits and have a good time is at none other than art galleries. While Germany boasts impressive museums such as Alte Pinakothek and Lenbachhaus in Munich, Kunsthalle in Hamburg, and Altes Museum in Berlin, these spaces tend to honor and house works by artists who are mostly male and mostly dead. In comparison to the oft-stuffy museums, galleries tend to host shows by artists who are currently creating work, making them great breeding grounds for discussion, and meeting new people. Some notable galleries are Berlinische Galerie, Pool Gallery, me Collectors Room, Carlier Gebauer, and Henrik Springmannn Gallery in Berlin; Ruttkowski 68 and Galerie Artclub in Cologne; Hamburger Kunsthalle, Heliumcowboy Artspace, and Deichtorhallen in Hamburg; Kunstraum, Lothringer 13, and Weltraum in Munich; Ostrale and Galerie Baer in Dresden; and Arty Farty in Cologne.
There are more attractions than venues, bars, and art galleries that those of the subculture like to frequent. Another destination that is loved by trendsetters (Sh! Don't tell anyone.) is the RAW Flohmarket in Berlin. Many people say that the flea market at Maurpark is the best place to find unique threads, which means that word is out and tourists are flocking there. This makes RAW one of the best places to find unique clothes that the crowds are missing.
Berlin also hosts an alternative Berlin free walking tour that showcases underground sights of the subculture like artist squats, skate parks, street art, art projects and graffiti culture. If that sounds like a little too much, try out BonAppetour—an app that lets you live like a local by linking travelers to locals who host dinners at their homes.
Culture, like language, is best absorbed not by learning about it in books, (although having previous knowledge and context absolutely helps) but through immersion. If you visit any city in Germany and want to find the best thrift store to find a good gem, or find what shows are going on the upcoming weekend you can certainly try and find out online, but the best way to discover new things is to talk to people. Travelers and tourists are often intimidated to talk to locals because of language and cultural differences. Cast those fears aside, and try your hand at talking to a stranger at a pub, or chatting up the cashier at a café about what kind of things are going on. You'd most likely be surprised by their enthusiasm to show a tourist the underground things that are happening in the city that they live in.
Leanna Robinson is a writer, artist, and creative director for Language Magazine. She graduated from the University of Central Florida with a BA in Creative Writing and currently lives in Los Angeles.