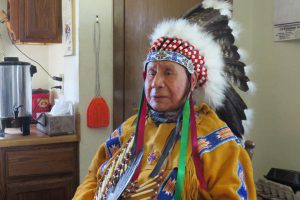 85-year-old Edwin Benson of Twin Buttes on the Fort Berthold Indian Reservation, North Dakota has died, taking the Mandan language with him. Benson was the last living fluent speaker of Mandan, despite preservation efforts. Three Affiliated Tribes Councilman, Cory Spotted Bear, has been working on a $1 million project funded by the tribe to collect and document all known records of the language. Spotted Bear told the Bismarck Tribune, "The world we live in becomes less. The language is the way the Mandan see the world."
Most Mandan speakers died during the 1830's smallpox epidemic. Many other speakers were deterred because of white colonial education. Benson had contributed to efforts to preserve Mandan through working with various linguists on documenting all that he knew. Benson's daughter, Heidi Hernandez said that Benson had become exhausted of his efforts to preserve the language. "He said he'd done enough now and he was tired," she said. "This language which made Dad so well-known across the world, I'm afraid it's extinct."
Tribal historian Marilyn Hudson recalls him telling her that being the only fluent speaker left had become somewhat of a burden. "He said it was lonely to be the only one," Hudson said. Neither of Benson's daughters speak Mandan. Their mother spoke Lakota, and his daughters said that Benson and their mother just spoke English to avoid confusion.
Benson came from an interesting familial line. His mother died when he was one, leaving him to be raised by his grandfather—a man who was born in an earth lodge and hunted the buffalo. Benson's upbringing is what left him to be the last speaker. His efforts weren't in vain, as tribal elder Art Smith worked with Benson to create a 2,000-page dictionary along with various recordings of grammar, writings, and recordings.
The language continues to be taught at Fort Berthold Community College in a revitalization effort.