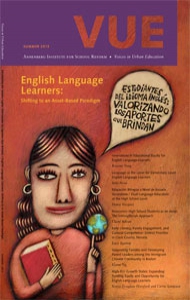 (Estudiantes del Idioma Inglés: Valorizando los Aportes Que Brindan)
The 37th issue of the Annenberg Institute's magazine, VUE (voices in urban education) focuses on the benefits that English Language Learners (ELLs) lend to the whole school populations and experience.
Guest editor Rosann Tung, director of Research & Policy at the Annenberg Institute for School Reform at Brown University (AISR), explains the approach, "Rather than view educating English language learners as a problem, the innovative practitioners, scholars, and policy analysts writing in this issue of VUE urge us to embrace and value ELLs as bicultural, bilingual leaders of the future."
The issue examines different aspects of asset-based education for ELLs – authors share unique aspects of their school models, which all highlight the value the English language learner students bring to their school communities. In addition, in the dual-language models, native English speakers learn how it feels to be language learners.
Perspectives from administrators and community organizations are also presented, along with professional development advice. To download a copy click here.