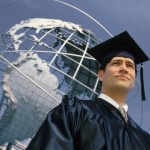 Study Abroad Growth Breaks Record
Students to U.S. up 10%
Intensive English enrollments up 13%
U.S. students overseas up 5%
Overseas Service Learning up 47%
The number of international students at U.S. colleges and universities had the highest rate of growth in 35 years-10% to a record high of 974,926 students in the 2014/15 academic year, according to the 2015 Open Doors Report on International Educational Exchange, released last month. Enrollments on Intensive English Programs grew even faster – 13.3% (from 43,456 students to 49,233).
The report also found the number of U.S. students studying abroad increased by 5% in 2013/14, the highest rate of growth since before the 2008 economic downturn, in addition to which the number of American students taking part in service learning abroad (Non-Credit Work, Internships, and Volunteering Abroad) rose 47% from just over 15,000 to more than 22,000.
Double digit growth in the number of American students studying in Mexico, Chile, and Peru contributed to an 8% rise in study abroad to the Latin American and Caribbean region. The number of U.S. students in Cuba rose for the ninth consecutive year, increasing 13% to 1,845 students. Germany had a 9% increase.
While study abroad by American students has more than tripled in the last two decades, reaching a new high of 304,467 (plus the 22,000 volunteers), still only about 10% of U.S. students study abroad before graduating from college.
The release of the new Open Doors data coincided with the celebration of International Education Week (IEW), a joint initiative of the U.S. Department of State and the U.S. Department of Education to prepare Americans for a global environment and attract future leaders from abroad to study, learn, and exchange experiences in the U.S. The statistics reported in IIE's Open Doors document how internationalized U.S. higher education has become, with a large growth in student mobility at host and sending institutions representing all types of colleges and universities and located across the nation.
"We are excited to see that record numbers of students are taking advantage of international education opportunities, and we applaud the efforts of U.S. higher education as we work together to increase the number of American students who study abroad," said Evan Ryan, Assistant Secretary of State for Educational and Cultural Affairs at the U.S. Department of State. "It is critical that we continue to make study abroad more accessible. These exchanges strengthen ties between the U.S. and countries around the world. By increasing accessibility to study abroad, we are investing in our future and providing a forum to solve global challenges."
"International experience is one of the most important components of a 21st century education," said IIE's President Dr. Allan E. Goodman. "Studying abroad is one of the best ways for students to gain the international experience necessary to succeed in today's global workforce. And studying in another country prepares students to be real contributors to working across borders to address key issues in the world we share."
In 2014/15, there were 88,874 more international students enrolled in U.S. higher education compared to the previous year. India, China and Brazil account for most of the growth in international students on U.S. campuses. There were large increases in the number of students from Brazil, Kuwait, and Saudi Arabia, all countries whose governments are investing heavily in international scholarships for their students. Nigeria also ranked among the fastest growing international student populations in the U.S. Latin America & the Caribbean was the fastest growing region of origin for international students in the U.S., increasing by 19% over the prior year, and benefiting from the support of 100,000 Strong in the Americas.
International graduate students at U.S. institutions increased more than international undergraduate students, reversing a two-year trend. This is largely because most of the students coming from India were studying at the graduate level. However, 2014/15 was the first year ever that Chinese undergraduates outnumbered Chinese graduate students.
International students' spending contributed more than $30 billion to the U.S. economy in 2014, according to the U.S. Department of Commerce.
@IIEGlobal, @ECAatState
See the new #OpenDoorsReport study abroad and int'l ed data released by @IIEGlobal and @ECAatState for #IEW2015 at www.iie.org/opendoors