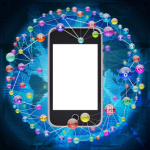 The mobile app market reached over 1.3 million available applications in July of 2014 and continues to be a booming business medium. Still greatly expanding, the Japanese app market surpassed the United States as the biggest in the world last October, beginning a trend of mobile application globalization.
According to a recent survey conducted by the mobile division of One Hour Translation, an online translation agency, only 49.7% of mobile apps are available in the users' native languages. The survey was conducted jointly with Google Consumer Surveys and was based on a representative sample of 800 people, 100 participants from 8 different countries, which included the US, Canada, the UK, Italy, Germany, the Netherlands, Australia, and Japan.
Although the average between these eight groups was 49.7%, results varied greatly between them. Over 70% of respondents reported all of their mobile apps being available in a native language in the US and the UK, while over 60% reported in Canada and Australia. In non-English speaking countries, the numbers begin to drop. In Japan, Italy, and Germany, just over 30% of respondents answered that all of their apps were available in their native language, and in the Netherlands, only 14%.
The CEO of One Hour Translation, Ofer Shoshan, suggests that the implications of this survey are clear; "Apps should be more effectively targeted to each specific market. People clearly prefer apps in their native tongue. Localiz[ing] applications […] is a simple and effective way to increase their user base."