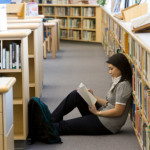 In a move supported by Language Magazine, a coalition of more than 20 education businesses, associations, and media groups has called on the U.S. Congress to support dedicated school library funding in the reauthorization of the Elementary and Secondary Education Act (ESEA).
The coalition is specifically asking Congress to incorporate the Strengthening Kids' Interest in Learning and Libraries (SKILLS) Act in ESEA reauthorization, which would expand federal investment in school libraries. Coalition leaders sent the joint letter to U.S. Senate Committee on Health, Education, Labor, and Pensions (HELP) Chairman Sen. Lamar Alexander (R-TN) and HELP Committee Ranking Member Patty Murray (D-WA).
"For our society and our economy to succeed, schools must serve as equalizers that provide all students with access to the resources and instruction they need to thrive academically and to become productive and engaged citizens," coalition members wrote in a letter sent to Congress. "That goal cannot be met without strong, professionally staffed school libraries. In too many schools across the nation, however, school library budgets and school librarian positions are being cut. Including SKILLS in ESEA will meaningfully contribute to reversing that cripplingly counterproductive trend."
Recent data available from the Department of Education's National Center for Education Statistics (NCES) reveals that approximately 8,830 public schools across the nation do not have a school library and, among those that do, nearly 17,000 additional schools do not have a full or part-time state-certified school librarian on staff.
"We support the nation's leading educational businesses and groups in calling for federal support for highly effective school library programs," said Emily Sheketoff, executive director of the American Library Association (ALA) Washington Office. "It is time that Congress recognized that students who have access to quality school libraries and supportive school librarians learn more, get better grades and score higher on standardized tests."