Secretary of Education offers extension for schools using testing in evaluations.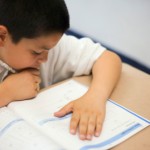 As Common Core aligned assessments are rolled out all across the nation, Secretary of Education, Arne Duncan is taking heat and receiving complaints from parents, educators and administrators alike. In a back-to-school letter, he addressed concerns about standardized testing and announced new measures that offer more flexibility to schools to make the transition smoother. Duncan shared three principle complaints in the debate about assessment in schools:
It doesn't make sense to hold them accountable during this transition year for results on the new assessments — a test many of them have not seen before — and as many are coming up to speed with new standards.
The standardized tests they have today focus too much on basic skills, not enough on critical thinking and deeper learning.
Testing — and test preparation — takes up too much time.
Prefacing his remarks by saying that he also shares these concerns, Duncan reiterated that testing should only be one part of evaluation of effectiveness and student learning.
"No school or teacher should look bad because they took on kids with greater challenges," Duncan said. "Growth is what matters. No teacher or school should be judged on any one test, or tests alone — always on a mix of measures — which could range from classroom observations to family engagement indicators."
"Educators work all day to inspire, to intrigue, to know their students — not just in a few subjects, and not just in 'academic' areas. There's a whole world of skills that tests can never touch that are vital to students' success. No test will ever measure what a student is, or can be. It's simply one measure of one kind of progress. Yet in too many places, testing itself has become a distraction from the work it is meant to support."
Duncan expressed concern over the contentious debate about testing, warning that it could be detracting from other pressing issues that require attention as schools confront enormous changes to the education system.
"I believe testing issues today are sucking the oxygen out of the room in a lot of schools — oxygen that is needed for a healthy transition to higher standards, improved systems for data, better aligned assessments, teacher professional development, evaluation and support and more," he explained. "This is one of the biggest changes education in this country has ever seen, and teachers who've worked through it have told me it's allowed them to become the best teachers they've ever been. That change needs educators' full attention."
To relieve some of the pressure of this change, Duncan proposed new measures to offer states more flexibility:
"States will have the opportunity to request a delay in when test results matter for teacher evaluation during this transition," Duncan announced. "As we always have, we'll work with them in a spirit of flexibility to develop a plan that works, but typically I'd expect this to mean that states that request this delay will push back by one year (to 2015-16) the time when student growth measures based on new state assessments become part of their evaluation systems — and we will work with states seeking other areas of flexibility as well."
This extension will give states an extra year to plan how student assessment will play into school evaluations. Duncan reiterated the importance on being serious about outcomes, but flexible about the journey to achieve new goals.