Dept. of Ed discontinues grants to three Learning Resource Centers but funds four more.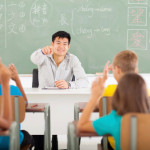 The U.S. Department of Education has announced grants for Language Resource Centers. The funds will be used to establish, strengthen and operate the nation's 16 Title VI Language Resource Centers (LRCs).
The Department of Education established Title VI LRCs at U.S. universities in 1990 to create a national network of resources to promote and improve world language education. Each LRC has unique goals and a specific mission within the common framework of promoting and improving language instruction through research, curriculum and material development, assessment, professional development for teachers, and special initiatives for K-12 education and less commonly taught languages.
Three LRC did not receive continued funding: The National Middle East Language Resource Center (NEALRC) at Brigham Young University, the Language Acquisition Resource Center (LARC) at San Diego State University, and the National Capital Language Resource Center (NCLRC) run by a consortium of the George Washington University, Georgetown University, and the Center for Applied Linguistics are no longer Title VI LRCs.
Four new LRCs were added to the list. Georgetown University, in collaboration with the Center for Applied Linguistics, received Language Resource Centers grant to establish the Assessment and Evaluation Language Resource Center (AELRC). The Graduate Center/CUNY was also selected as the site of the Center for Integrated Language Communities (CILC). Cal State Fullerton is developing a National Resource Center for Asian Languages (NRCAL) on their campus. Georgia State University will be the site of a new Center for Urban Language Teaching and Research (CULTR).