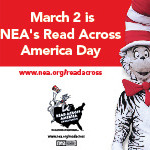 Read Across America Day is held on March 2nd, the birthday of children's author Dr. Seuss, and is celebrated with events and activities designed to promote year-round daily reading. Sponsored by the National Education Association (NEA), this annual reading motivation and awareness program invites children in all communities to revel in reading. Over 3.2 million students and education professionals and 40 national organizations and associations are estimated to participate in this year's activities.
March 2nd also kicks off a week-long country-wide reading tour with the NEA's Dr. Suess themed Cat-A-Van, which will begin in Los Angeles and make its way to New Orleans by March 6th. The NEA's website includes pre-made lesson plans featuring STEAM – science, technology, engineering, the arts, and math – centered ideas linked to classic Dr. Suess books that correlate to Common Core State Standards in ELA-Literacy for those who want to plan their own reading event.
A study at the National Institute for Literacy found that a person who is not at least a moderately-skilled reader by the end of third grade is quite unlikely to graduate from high school. In order to motivate children and encourage them to spend more time with books, the NEA provides book recommendations and lists of advice and activities to inspire bookish habits in children.
The California Teachers Association (CTA) has distributed the NEA's list, 6 Keys to Help a Child Become a Good Reader, in Spanish, Cambodian, Chinese, Hmong, Korean, Tagalog, and Vietnamese for parents who want to promote reading habits in a language other than English. Fitting with the book selection of 2015, Oh, the Places You'll Go, the NEA has published the Read Across America Poem, which begins, "You're never too old, too wacky or wild, to pick up a book and read with a child."
For more information, contact a local school, education association, library, bookstore or local NEA chapter, or follow Read Across America on Facebook and Twitter.