Indians push to add 38 more languages to their constitution.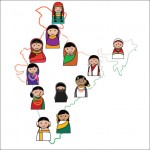 The Indian government is facing pressure to consider 38 more official languages to be added to the Eighth Schedule of the Constitution. The Eighth Schedule currently lists 22 official languages of India, including Hindi, Bengali and Marathi. The languages to be considered for inclusion are Pahari (Himachali), Pali, Rajasthani, Angika, Banjara, Bazika, Bhojpuri, Bhoti, Bhotia, Bundelkhandi, Chhattisgarhi, Dhatki, English, Garhwali, Gondi, Gujjar/Gujjari, Ho, Kachachhi, Kamtapuri, Karbi, Khasi, Kodava (Coorg), Kok Barak, Kumaoni, Kurak, Kurmali, Lepcha, Limbu, Mizo (Lushai), Magahi, Mundari, Nagpuri, Nicobarese, Sambalpuri/Kosali, Shaurseni (Prakrit), Siraiki, Tenyidi and Tulu. Originally, languages in the Eighth Schedule were entitled to representation by the Official Languages Commission. Today the Government of India is obligated to take strides to promote these languages so that "they grow rapidly in richness and become effective means of communicating modern knowledge."
The inclusion of English has been the most controversial. Critics of adding English as an official language point out that it already receives preference over Hindi and other Indian languages in civil service examinations. As of now English is not protected by the Eighth Schedule, but it does function in India as an official language— it is used in Parliament and has official status in some states. The Indian government has yet to decide if it will include any additional languages in the Eighth Schedule.