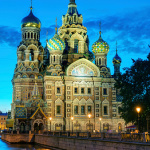 Since the collapse of the Soviet Union over 20 years ago, the importance of Russian as an international language has dwindled. However, over the last few months, there seems to have been a resurgence of interest in the language of Pushkin, perhaps as a consequence of the conflict in Ukraine where the Health Minister Alexander Kvitashvili has forced Prime Minister Arseniy Yatsenyuk to make Russian the working language at governmental meetings.
According to the Ukrainian edition of Glavcom, Yatsenyuk had to use all his language skills at the first government meeting, The open part of the meeting was held in Ukrainian, but when the government passed to the closed part of its meeting Yatsenyuk had to speak different languages. At first he started speaking English and finally passed to Russian. Health Minister Alexander Kvitashvili, an ethnic Georgian, who lacks Ukrainian language skills made the premier take this step, the newspaper reported.
In the U.S., a new resolution passed by the House of Representatives calls on the President and the State Department to increase media influence on Russian speakers in their native language.