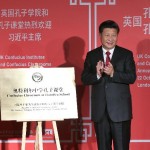 During his visit to the UK, the President of the People's Republic of China, Xi Jinping, attended the opening ceremony for the annual conference of Confucius Institutes in London, stressing the importance of maintaining UK-China relations through language and cultural understanding. The Confucius Institute is an organization affiliated with China's Ministry of Education that was created to promote the teaching of Chinese language and culture internationally while facilitating cultural exchange. London Confucius Institute (LCI) is the first Confucius Institute in the UK and started to operate in 2006. President Xi Jinping gave the conference's opening remarks, saying, "I am glad to see that there are so many teachers and students teaching and learning Chinese language, especially that so many UK students are interested in Chinese language and culture."
"The UK has established 29 Confucius Institutes and 126 Confucius Classrooms, ranking first among the European countries. The fruitful results yielded by the UK Confucius Institutes are an epitome of the booming development of people-to-people exchanges between China and the UK," the President continued. He brushed on contemporary British culture and how cultural interest goes both ways; "The Chinese people are enchanted by British literary classics, including the works of William Shakespeare, William Wordsworth, Jane Austen, and Charles Dickens. And they love pieces of modern British art, such as Cats, James Bond movies, Harry Potter, Sherlock and Downton Abbey. In China you can find countless fans of football stars such as David Beckham and clubs like Manchester United and Arsenal," Xi said.
"The more people really have a chance to learn foreign languages like Chinese to meet people from other places to go there to engage with the culture to study literature, culture, philosophy I think the more we have this sort of global understanding, which then also improves bilateral relations like the UK China relations," said Professor Lutz Marten, director of London Confucius Institute, who told CCTV that demand for Chinese language classes in London continues to grow.
Prince Andrew also said in the opening remarks of the Confucius Institute conference, "As an old friend of China, I support the development of Confucius Institutes and Classrooms and encourage more UK children to learn the Chinese language. China is a very important country and the UK-China relationship is also rather crucial. A good command of Chinese language can contribute to the development of cooperative partnership between the UK and China."
#Chinese #China #globaled