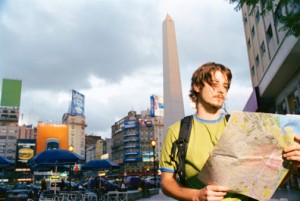 The number of international students at colleges and universities in the U.S. increased by 7% to a record high of 819,644 students in the 2012/13 academic year, while U.S. students studying abroad increased by 3% to an all-time high of more than 283,000, according to the 2013 Open Doors Report on International Educational Exchange, released today.
In 2012/13, 55,000 more international students enrolled in U.S. higher education compared to 2011/12, with most of the growth driven by China and Saudi Arabia. This marks the seventh consecutive year that Open Doors reported expansion in the total number of international students in U.S. higher education. There are now 40% more international students studying at U.S. colleges and universities than a decade ago, and the rate of increase has risen steadily for the past three years. International students make up slightly under 4% of total student enrollment at the graduate and undergraduate level combined. International students' spending in all 50 states contributed approximately $24 billion to the U.S. economy.
The number of U.S. students who studied abroad for academic credit increased by 3% to 283,332 students in 2011/12, a higher rate of growth than the 1% increase the previous year. More U.S. students went to Latin America and China, and there was a rebound in those going to Japan as programs reopened in Fall 2011 after the earthquake and tsunami of March 2011. Study abroad by American students has more than tripled over the past two decades, from approximately 71,000 students in 1991/92 to the record number in 2011/12. Despite these increases, fewer than 10% of all U.S. college students study abroad at some point during their undergraduate years.
Findings of the Open Doors report, published annually by the Institute of International Education in partnership with the U.S. Department of State's Bureau of Educational and Cultural Affairs, is the subject of a briefing in Washington, D.C. tomorrow, led by Assistant Secretary of State Evan M. Ryan and IIE President and CEO Allan E. Goodman.
"International education promotes the relationship building and knowledge exchange between people and communities in the United States and around the world that are necessary to solve global challenges," said Evan M. Ryan, Assistant Secretary of State for Educational and Cultural Affairs. "The connections made during international education experiences last a lifetime. International students enrich classrooms, campuses and communities in ways that endure long after students return to their home countries. We encourage U.S. schools to continue to welcome more international students to their campuses and to do more to make study abroad a reality for all of their students."
"The careers of all of our students will be global ones, in which they will need to function effectively in multinational teams. They will need to understand the cultural differences and historical experiences that divide us, as well as the common values and humanity that unite us," noted IIE's President Dr. Goodman. "International students coming to study in the U.S. benefit from access to some of the finest professors and research laboratories in the world, and Americans benefit substantially from the presence of international students who bring their own unique perspectives and knowledge to the classroom and the wider community."
Commenting on the fact that 90% of American undergraduates still do not study abroad, Dr. Goodman said, "We need to increase substantially the number of U.S. students who go abroad so that they too can gain the international experience which is so vital to career success and deepening mutual understanding."
The International Education Week briefing will examine key trends in detail, with a discussion of how economic factors and education policies affect global student mobility, and how academic exchange strengthens diplomatic and business relationships around the world.