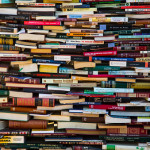 On May 15 through 17, the Los Angeles Convention Center was packed with families and readers of all ages for the fourth LéaLA, LA's Spanish -language book fair. This free event is organized by the University of Guadalajara and not only promotes literacy in the Spanish lanuage, but also offers a venue for celebrating Latin American and Latino culture in Southern California. LéaLA is the only Spanish-language book fair in the United States.
This year's guest of honor was Mexico City, which organized exhibitions and events in the Guest of Honor Pavilion that focused on the phenomena that influence the culture in Mexico's capital city, such as exile and migration, the artistic and literary vanguard, diversity and multicultural interactions.
Marisol Schulz, director and founder of LeaLA, remarked, "This fair has a mission, which goes beyond opening the market of Spanish books (although that is part of it) and it involves responding to the need of a representative population of the Latino community to have access to the cultures of their countries of origin. Because of this lack of access to reading material in Spanish, LeaLA provides a space where they can find books that speak to them of their heritage and in the language of their ancestors and for many in their native tongue."
Mexico's Consul General in Los Angeles, Carlos Sada Solano, beamed"LeaLA is without a doubt the most important cultural event carried out by Mexico in another country."
Exhibitors included publishers and educational institutions. Attendees had access to thousands of imported books sold directly from publishers, including bilingual titles and books in indigenous languages of the Americas. The fair also had events about indigenous cultures, culinary arts, theater, and children's literature as well as poetry readings, book signings and writing workshops.
For more information, visit the LéaLA website.