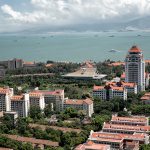 In a move that U.S. Secretary of State John Kerry said should inspire other businesses, Airbnb—the multibillion dollar, homesharing company—has committed $80,000 a year for the next three years to support study abroad in China. Kerry said the scholarship and promotion of study abroad "is really what we need to be doing in this shrinking world."
The company's contribution will benefit the Benjamin A. Gilman International Scholarship program—a congressionally funded program that seeks to diversify the ranks of students who study and intern abroad.
The Gilman scholarship program currently sends about 2,800 students from diverse backgrounds abroad by providing scholarships of up to $5,000. Those who study a "critical need" language, like Chinese, in a country where the language is predominant are automatically considered for the larger, $8,000 Critical Need Language Award.
The three-year, $80,000-a-year commitment from Airbnb will support ten U.S. students a year to study in China.
Kerry commented on the importance of studying abroad, "About 300,000 Americans do that now, and they're hitting the books on foreign campuses all around the world. That may sound like a lot, but it's a drop in the bucket compared to the total number of students."
"We can do better and we ought to do better. We need to understand the world," Kerry said. "To act responsibly, we've got to build a healthy degree of trust between ourselves and other people. Study abroad is critical because it helps young people learn about these places but it also helps you think about what might work more efficiently here and to get more ideas on how we might be doing things like others who might be doing things more in a more thoughtful, rapid or efficient way than we had contemplated."
Airbnb CEO Brian Chesky added, "Cultural understanding won't solve every one of the world's problems, but it does get at the root of misunderstanding between countries. It's hard to misunderstand someone when you actually live with them."