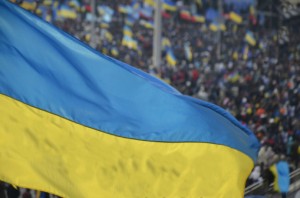 The new Ukrainian government has repealed the country's minority language law following the resignation and flight of President Viktor Yanukovych after rioting in Kiev brought down his regime. Once the opposition took control, it voted to repeal the 2012 law allowing the official use of minority languages in areas where ethnic minorities make up more than 10% of the population.
The repeal is intended to weaken the large Russian-speaking minority which held considerable sway in Yanukovych's government. However, Romanian and Hungarian-speaking communities in the southwest of the country will also be affected. The political move coincided with the release from jail of ex-Prime Minister Yulia Tymoshenko, who, despite having Russian as her mother tongue, claimed the law's introduction was merely a tool for Yanukovych to garner support.
The decision has been met with a strong media backlash from minority communities. Andras Giro-Szasz, a spokesperson for the Hungarian government in Budapest stated that "The Hungarian government… cannot accept in any form the revoking of the Ukrainian language law". Hungarians make up the largest ethnic minority in Ukraine with a population of over 150,000 – 13% of the total population.
Oleg Tyagnibok, leader of the Svoboda Ukrainian Nationalist Party advocated for the law's revision due to the terms on which it was created, promising however that it would eventually be replaced with a new statute. Members of the Svoboda have also authored another bill, currently under consideration, which would ban all Russian-language media in Ukraine. The Svoboda claim that the move would limit biased and deceptive reporting of Ukraine's continued political unrest.
The European Parliament has approved a resolution on Ukraine, which among other things calls on  the new government to respect the rights of minorities, particularly when it comes to the use of languages.
The resolution, proposed by six political groups in the European Parliament, urges Ukraine to ensure that its new legislation complies with the European Charter for Regional or Minority Languages.