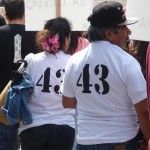 En route to a demonstration that sought to protest policies that gave urban student-teachers an advantage over rural student-teachers on the job market, 43 students from the Escuela Normal Rural Raúl Isidro Burgos Rural de Ayotzinapa, a teacher training college in Guerrero, Mexico, were ambushed by police and disappeared. Additionally, 6 unarmed people were killed and 25 injured by police. Six months later, the students who survived the ambush and the families of the disappeared students are still waiting for answers. Investigators claim that the students were all killed after being turned over to a drug cartel, yet among the dozens of bodies discovered in the surrounding area, only one student has been confirmed dead through a DNA match, which attests to the widespread disappearances that plague Mexico today, estimated at over 22,000 since 2006.
Family members and survivors are currently touring the United States to raise awareness about the disappearance of the 43 student-teachers and to put pressure on the Mexican government to pursue an investigation and punish all those involved in the kidnapping and subsequent cover-up. The marches also seek to call attention to some of the underlying causes of widespread violence and disappearances throughout Mexico, such as the Plan Merida and the export of arms to Mexico. The families and survivors of Ayotzinapa have achieved some success as the international community learns more about the dire situation in Mexico. Upon hearing that some of the weapons used in Iguala were German, Germany not only issued a formal apology through an envoy, but also launched an investigation into the German arms company for exporting weapons to Mexico illegally.
The families and survivors participating in the Caravana 43 tour are calling upon sympathizers to raise awareness about their plight by attending events and marches that are taking place around the country. For more information about the tour to show solidarity with the families of the disappeared aspiring educators, click here.