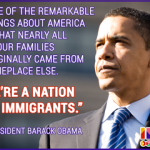 This morning, President Obama devoted his weekly address to the celebration of Immigrant Heritage Month (#IHM2015), an occasion that allows us to celebrate our origins as a nation of immigrants, and vowed to push forward with immigration reform.
"I think of growing up in Hawaii, a place enriched by people of different backgrounds – native Hawaiian, Filipino, Japanese, Chinese, Portuguese and just about everything else. Growing up in that vibrant mix helped shape who I am today. And while my father was not an immigrant himself, my own life journey as an African-American – and the heritage shared by Michelle and our daughters, some of whose ancestors came here in chains – has made our family who we are," shared the President.

Language Magazine is also a proud supporter of Immigrant Heritage Month. "Immigrants, their cultures, languages, and skills are America's greatest resource," claims Language Magazine editor Daniel Ward. "In our age of globalization, we have to recognize the value of our multicultural, multinational roots and ensure that immigrants, old and new, retain and share the skills, customs, and knowledge that they brought to this country so that all Americans can have a better understanding of the global village in which we live."
Language Magazine is inviting its readers and followers to share their own immigration stories, publicize their heritage culture and language programs, and announce events through our network. Visit our story submission page for details on how to submit information.
The basic idea of welcoming people to our shores is central to our ancestry and our way of life so the President is also asking everyone to visit whitehouse.gov/NewAmericans and share stories of making it to America.
Let's celebrate our immigrant heritage!