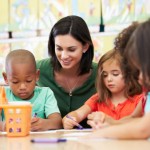 The Common Core State Standards require that kindergarteners have the ability to read emergent texts with purpose and understanding. Kindergarten literacy standards are controversial as educators are split over what will best set up small children for success: play and creativity or academic rigor?
In a video by Defending the Early Years (DEY), a nonprofit that advocates for young children, Dr. Nancy Carlsson-Paige points to the lack of evidence to support that children should learn to read in kindergarten. Furthermore, Dr. Carlsson-Paige posits, "When children are taught things that they're not ready to learn, it can create feelings in them of confusion and anxiety and inadequacy." DEY has called for: a withdrawal of the CCSS for kindergarten so that they can be rewritten to reflect the way that children develop according to empirical research; a task force of early childhood educators to recommend developmentally appropriate, culturally responsive guidelines for supporting learning from birth to age eight; and to end the use of high-stakes testing with children up to third grade and the use of scores for teacher and school evaluation.
The use of high-stakes testing and externally-imposed standards has fundamentally changes the paradigm of kindergarten in the U.S. While many European countries still emphasize play, creativity and dexterity over academic rigor, kindergarten in the U.S. is looking more and more like what first grade was in the 1990's. A recent working paper published by Ed Policy Works entitled, "Is Kindergarten the New First Grade?" highlights some of the major shifts in kindergarten since 1998. The working paper points out that the design of the kindergarten classroom has changed significantly. While the kindergarten classroom of the 1990's had various activity centers where children could make art, conduct scientific experiments, play games, and use their hands with sand and water tables, today's kindergarten classroom looks more like a first grade classroom with desks, facilitating more teacher-centered instruction and making student-selected activities more difficult to carry out. Teachers reported difficulty obtaining materials such as play-doh, model kitchens and houses, dolls and games with district support. Meanwhile, between 1998 and 2010, teachers reported a 20% increase in believing that student achievement in relation to standardized testing was important or essential.
While the working paper could not conclude as to whether the increased emphasis on literacy and math in kindergarten hurt or helped students to become successful further in their schooling, the authors noted that this emphasis comes at the expense of time dedicated to art, music, science, and student-selected activities.
#literacy #kindergarten #CCSS