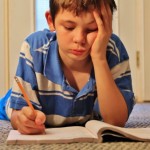 A new report published by Organisation for Economic Co-operation and Development (OECD) analyzes data on well-being across its 34 member countries. The study, "How's Life?" aims to capture a portrait of well-being that reflects the diversity of human experiences, taking into account questions of work-life balance, housing, educational attainment, and civic engagement among others. The study includes a section on childhood poverty and the effects of volunteering on well-being in OECD member countries, most of which are among the world's wealthiest.
The study points out that gaps in well-being exist not only among national averages, but also within nations themselves. Furthermore, the seemingly distinct categories that OECD researchers measured to capture a holistic portrait of well-being are interconnected. The report took a special look at child poverty, which is on the rise and effects every facet of society, especially education, opportunities, and happiness. For example, children from low-income families also experienced a higher incidence of bullying. Despite the relative affluence of most of the OECD member countries, one in seven children lives in poverty, 10% live in jobless homes, and 10% report experiencing bullying. Family socio-economic background is a catalyst in child well-being as children from better-off families experience better health, higher civic engagement, higher skills, and better relationships with parents and peers. Meanwhile, they are also less likely to be bullied and more likely to feel a sense of belonging in school. The study suggests that inequalities among adults transfer to inequalities in well-being among children.
The United States fared well in few aspects of child well-being compared to the other OECD states. In looking at housing conditions, time that children spend with parents, and disposable income of households with children, the U.S. ranked in the top 30%. However, most of the other categories saw the U.S. in the bottom third. The U.S. scored embarrassingly low in all aspects of child health, including infant mortality, low birth rate, and adolescent suicide. Life as a U.S. teenager looked especially bleak, as U.S. teenagers had the highest rate of self-reported poor or fair health, the highest incidence of overweight and obese teenagers, and reported the second to lowest score for feeling comfortable talking to their parents, ranking higher only than France. The U.S. had the second highest child homicide rate in the OECD, ranked just below conflict-ridden Mexico.
"How's Life?" dedicated special attention to the impact of volunteering on well-being. Volunteering is positive not only for the people that are helped, but also for the volunteers themselves and society at large. In 2001 the U.N. identified volunteering as important for "poverty reduction, sustainable development, health, disaster prevention […] and overcoming social exclusion and discrimination." Volunteering reaps economic benefits; offers health benefits, particularly for the elderly; fosters skils that are applicable to the workplace; and gives volunteers a sense of subjective well-being. However, OECD warned that many volunteers come from relatively affluent backgrounds, potentially widening the well-being gap across socio-economic lines. Creating the opportunities for people from all backgrounds to experience the benefits of volunteers should be an important goal for all countries.
#edchat #globaled #OECD