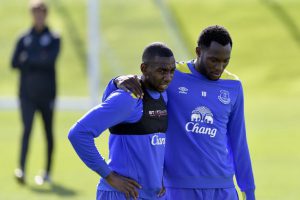 Yannick Bolaise and Romelu Lukaku have a surprise up their sleeves that helps aid in their soccer success and it has nothing to do with fancy footwork. The two Everton forwards speak a dialect of the Republic of Congo called Lingala. Lukaku is a Belgian international of Congolese descent while Bolaise is a DR Congo international who both speak the dialect.
Bolaise told the Liverpool Echo, "We speak Lingala on the pitch. There aren't too many defenders in the league who speak it, so that gives us a little bit of an advantage. It's particularly useful because it's quick."
Lingala is a Bantu language—a traditional branch of the Niger-Congo language—spoken throughout the northwestern part of the Democratic Republic of Congo, a large part of the Republic of the Congo, Angola, and the Central African Republic. While the language has over ten million speakers, Bolaise and Lukaku are in the minority of Lingala speakers on the field, so their shared dialect is able to be spoken around their opponents without them understanding. These players understand the perks of bilingualism!