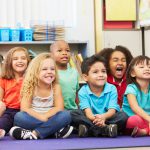 With the passage of Proposition 58, California, parents and teachers will soon be able to decide the on the blend of languages in which to best educate children. "As president of Californians Together and a school board member, I am thrilled that the electorate sees being bilingual as an asset, and we will work with policy makers and school districts to make this a reality for California's students," said Xilonin Cruz Gonzalez.
This vote removes restrictions put in place 18 years ago by the controversial Proposition 227 that created a blanket approach to educating California's 1.4 million English Language Learners and denied many other students the opportunity to learn another language. Starting July, 2017, any 20 parents at a grade level or 30 parents at a school site can initiate the conversation and planning process with educators to determine how best to teach their children in two languages.
"Eliminating barriers and creating equal opportunities for students has been a life-long passion of mine. I'm so proud that the voters of California voted to give all students a chance to learn by overwhelmingly passing Prop 58," said Senator Ricardo Lara (D-33), author of the legislation that created the proposition. "This decisive vote helps restore the pride in being multi-lingual as a valued skill and reflects a cultural shift toward openness and acceptance of people from all different backgrounds."
In addition to the whole education community (including this publication), the California Business Roundtable, the California Chamber of Commerce, and the California Medical Association supported Proposition 58 as essential for equipping students with the 21st Century skills needed to meet demand in our new economies.
As the sixth-largest economy in the world, California's passage of Proposition 58 encourages California schools to offer multilingual programs to ensure that our students become proficient in English while also having the chance to learn in other languages. Currently, only 425 of the 10,393 public schools in California offer dual-language immersion programs.
"This is an historic day. The California Association for Bilingual Education (CABE) will be working from now until Proposition 58 is implemented in July, 2017 to help support and prepare our schools, teachers, administrators and school board members to best plan for this exciting new era in public education" said Karling Aguilera Fort, president of CABE.
"Proposition 58's passage means that we embrace language and learning in California. This measure makes it easier for schools to offer dual-language and multi-language options to learn and thrive on the path to the graduation finish line. We will continue to lead in creating opportunities for bilingualism and multilingualism," added Los Angeles Unified School District board member, Mónica García.
For more information on implementation, visit: http://www.gocabe.org/prop58 or www.californianstogether.org