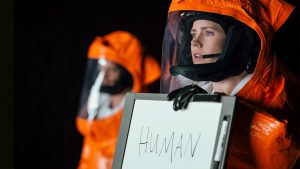 The recent blockbuster Arrival has linguists in the forefront. Amy Adams plays the protagonist, Louise Banks, an academic field researcher who is recruited by the U.S. military to help communicate with an alien race that has descended on earth with unknown intentions. Much different than the usual extraterrestrial story line a la Mars Attacks, Arrival focuses on the value of communication, the power of translation, and how linguists do field work to understand new languages.

Eric Heisserer, the screenwriter and co-producer of the film consulted with McGill Univerity's Jessica Coon. Coon is an associate professor of linguistics who was wary at first, according to McGill Alumni Magazine, but later became intrigued with the film. Coon told the Daily Herald, "A lot of people don't know what linguists do, or even that we exist, apart from some idea that we just translate lots of languages."
While many expect linguists to be glorified translators, many working in the field do much more theorizing than translating. This aspect is partially explored in the film. "There's a lot regarding the experience of being a linguist that rang true," says Jennifer Nycz to Science Mag, a linguist at Georgetown University in Washington, D.C. "For example, the fact that other characters in the film expect the linguist to just know all the languages, including the alien one. None of us are C-3PO!"
Others, like Georgetown linguist Nicholas Subtirelu, says "For many of us, the focus of our work is less about the details of any particular language and more about larger questions, like how languages are learned," and added that the portrayal of the multilingual abilities of Banks feeds into popular perceptions of linguists as "professional polyglots."
Arrival explores one side of linguists that the majority of the population may not understand, and highlights the importance of understanding and communication in our interstellar universe.