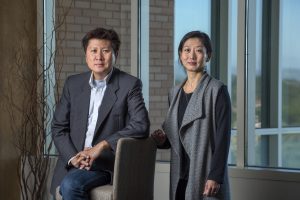 The University of California, Irvine is launching a Center for Critical Korean Studies funded by a 1 billion-won grant (about $850,000) from the Academy of Korean Studies and led by principal investigator Kyung Hyun Kim, UCI professor of East Asian languages & literatures, the unit will be administered by UCI's Humanities Commons.
In response to students' surging interest in contemporary Korean popular culture and society and to leverage UCI's faculty proficiency in Korean studies, the center will develop innovative interdisciplinary programs, provide research grants for cutting-edge books/monographs and essays, hire leading postdoctoral students in critical Korean studies, and invite scholars from around the globe to share their research on the nation.
Eleana Kim, associate professor of anthropology, and Kyung Kim, professor of East Asian languages & literatures, will head up the center, which will produce Korea-specific critical theory as it relates to race, borders, ecology and current pop culture. It will promote reading and writing in Korean; analyses of Korea's relationship to the Pacific Rim region and, consequently, to the world; and a deeper historical understanding of the country.
"UCI was founded on the principle that collaboration among disciplines coupled with the international exchange of ideas would lead to innovation and discovery in unimagined ways," said UCI Chancellor Howard Gillman. "I believe our Center for Critical Korean Studies is a prime example of how UCI continues to forge pathways for meaningful global engagement and builds upon the university's longstanding commitment to the study of East Asian and Pacific nations. I look forward to the scholarly developments and relationships that result."
"In the 20th century, scholars tended to focus on Europe as the barometer from which to evaluate other cultures. UCI's focus on interdisciplinary and global studies is an important step in creating true global citizens," Kyung Kim said. "I couldn't be prouder to lead Korean studies at UCI. Orange County has the second-largest Korean community outside Korea, so the Korean language and culture are representative not just of our global community, but also of our local one."
UCI's current Korean community includes about 10,000 alumni. In 2015, the UCI Alumni Association launched a Seoul chapter that now has 263 members and a Korean American chapter for Orange County and Los Angeles that has nearly 200.
The Academy of Korean Studies, which funded UCI's Center for Critical Korean Studies, is a South Korean research and educational institute founded in 1978. To learn more about the center and its upcoming events, visit http://humanities.uci.edu/criticalkorean.