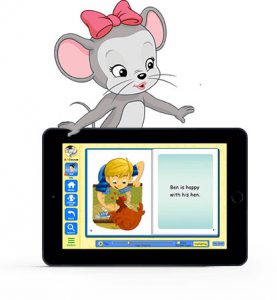 Age of Learning, Inc. has launched ABCmouse for Schools, a scalable solution designed to help schools worldwide meet the needs of pre-K through second-grade students, building on the success of ABCmouse.com Early Learning Academy, a leading digital education resource for early learners. Available on computers, tablets, and smartphones, ABCmouse is already used by millions of children at home, in more than 65,000 U.S. classrooms, and in more than one third of all U.S. public libraries.

For pre-K through second grade, ABCmouse Early Learning Academy is a comprehensive supplemental curriculum that prepares children for third grade, and the new ABCmouse English Language Learning Academy can be used by teachers as a core program or as a supplemental resource for ELLs. These curriculum offerings are complemented with student management, professional development, curriculum alignment, and progress reporting tools. There are also home-access versions that are designed to engage children in learning outside of the classroom while strengthening the school–home connection." ABCmouse is already a trusted early-learning program for more than 65,000 classroom teachers," explained
David Samuelson, head of global schools for Age of Learning. "However, district-level educators have asked for additional features to support implementation of this highly effective supplemental curriculum across all of their early elementary classrooms, with the goal of ensuring that all of their younger students become truly third-grade ready. To meet this critical need, we spent more than a year developing the suite of ABCmouse for Schools tools and resources, based on feedback from teachers around the country and globally along with guidance from our Curriculum Board and advisors." ABCmouse English Language Learning Academy teaches English beginning with listening and speaking activities that help children to quickly develop vocabulary and conversational skills. Once students have learned to speak and understand simple English, they progress to reading and writing.