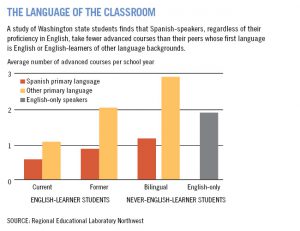 Education Northwest along with the Institute of Education Sciences and Regional Educational Laboratory at Education Northwest analyzed the patterns of advanced coursework among Spanish-speaking students, other language minority students whose primary/home language is a language other than Spanish, and English-only speakers.
The study found distinct differences between the groups. Spanish-speaking students were found to enroll and perform less in advanced courses regardless of English learner status, while other language minority students were found to enroll in more advanced level courses than English-only speakers. Language minority students were also found to perform as good as or better than English-only speakers once becoming English proficient.
Language minority students are infrequently researched, so the findings of the study are quite novel. Researchers stated, "Language minority students—students whose primary or home language is not English—are often overlooked in research on disparities in advanced course enrollment. These students, whose numbers are growing in many school districts, might be well positioned to succeed in advanced courses. Yet unique challenges—such as high mobility rates or the need to learn academic content and English language skills simultaneously—could leave some language minority students underprepared for advanced coursework. Because language minority students are a highly diverse group, simple comparisons with English-only speakers may have limited value. Language minority students have a wide range of backgrounds that may influence their academic paths."
On average, Spanish-speaking students enroll in half as many advanced courses per year as English-only speakers. However, bilingual students on average have the highest grade point averages and take more advanced courses than all other groups.
A key finding of the study was that Spanish-speaking students attended schools that offer less advanced courses.